Blog | October 28, 2022
The Legacy of a Good Name
Health & Benefits News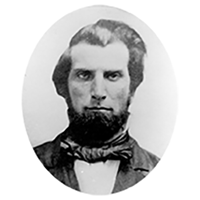 Raised on stories of their ancestors, Mary "Helen" Dodson and her brother were researching their genealogy when they stumbled upon a book with so much interesting information about their great-grandfather, Wesley Clark Dodson, that Helen began working on a book of her own about him.
After the Civil War destroyed the cultured, educated life Wesley and his wife, Sarah, built in Alabama, they moved to Bryan, Texas. The town was lawless; the Dodsons saw people douse a drunken man with kerosene and light him on fire, and prostitutes roamed the streets. In Galveston, where Wesley went to find work, the boarding house where he stayed was broken in to twice.
The Civil War veteran and his wife wanted to bring civil society to Texas, and from the 1870s to the early 1900s, while living in Bryan, Galveston and Waco, Wesley designed churches, schools, 19 courthouses and six jails throughout Texas.
"He wanted these to be buildings that had architectural elements that were beautiful, refined and something they could take pride in," Helen said.
Helen is calling her book, which she expects to come out in about a year, "The Legacy of a Good Name" because Wesley believed there was nothing more precious to leave his children and grandchildren than a good name.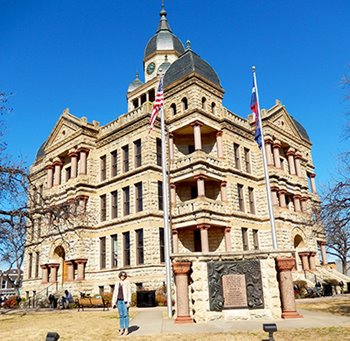 Often known as W.C. Dodson, Wesley designed all but two of the 19 courthouses in the Second Empire architectural style. He wanted the buildings, built in the middle of town squares, to be visible to everyone entering a town. He finished all four faces of each courthouse so no matter what side someone enters, they feel like they are coming through the front door.
Some of the courthouses Wesley designed, including those in Johnson, Anderson and Hunt counties, burned down. Some of the fires were started by arsonists hoping to destroy incriminating evidence. It was effective because stately bell towers characterized Wesley's buildings. When a bell tower catches fire, it usually collapses into the building, burning it to the ground.
During the 20th century, Americans wanted everything to look modern, Helen explained. Local leaders demolished some of the other courthouses Wesley designed, including the Houston County Courthouse, Kaufman County Courthouse and the second Hunt County Courthouse.
Wanting to preserve their heritage, people started restoring buildings around the 1970s, and Wesley's legacy lives on in preserved courthouses in Fannin, Lampasas, Parker, Hill, Hood and Denton counties.
While restoring these buildings, workers often discovered old treasures. At the Fannin County Courthouse, they found that tar and Lueders limestone covered the original beautiful stone. While removing 1950s-era drop ceilings in the Beaux-Arts-style Coryell County Courthouse, they found a Tiffany glass dome.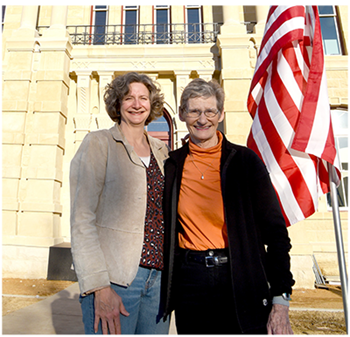 In addition to courthouses, Wesley designed the Williamson and Hill County jails (the other four jails he designed were demolished between 1928 and 1969), Texas Woman's University Old Main Building and First Presbyterian Church of Palestine, all of which are listed on the National Register of Historic Places. He was also a consulting and supervising architect for the Beaux-Arts-style McLennan County Courthouse, also on the NRHP.
Helen said she missed the Texas county courthouse rededication ceremonies that took place before she began researching Wesley, but she and her daughter attended the Fannin County Courthouse rededication ceremony in March 2022.
"These people have given me an enormous gift by preserving his legacy," she said. "It is a testament to the importance of his work; 130 years after they were built, these buildings are still standing and serving communities."