Blog | October 28, 2022
TAC names seven county recipients of 2022 Best Practices Awards
Health & Benefits News
To help spread the word about innovative county programs and provide other counties with models they can adapt to meet their own needs and better serve their residents, the Texas Association of Counties recognizes pursuits of excellence with its County Best Practices Awards Program. TAC congratulates these seven counties and 11 programs selected to receive a 2022 County Best Practices Award:
Bell County
Uncertainty marked the early weeks of the pandemic. In Bell County, Clerk Shelley Coston and her team quickly implemented a continuity of operations plan that allowed them to keep providing essential services while protecting office staff members and the public.
Burleson County
Jail for people with mental illness who commit minor offenses costs Texas counties millions of dollars each year. Burleson County sought another path, hiring a mental health deputy to help persons in psychological crises find treatment and avoid jail.
Harris County
District Attorney Kim Ogg's office, in partnership with other stakeholders, opened the Judge Ed Emmett Mental Health Diversion Center to steer low-level, nonviolent offenders with mental illnesses away from jail and toward treatment. The program has saved millions of dollars and cut in half the number of new jail bookings post-diversion.
Hidalgo County
County Judge Richard F. Cortez teamed up with local leaders and the Texas A&M AgriLife Extension Service to create the Cooking School for Emergencies, a novel educational program to help residents better prepare for natural disasters.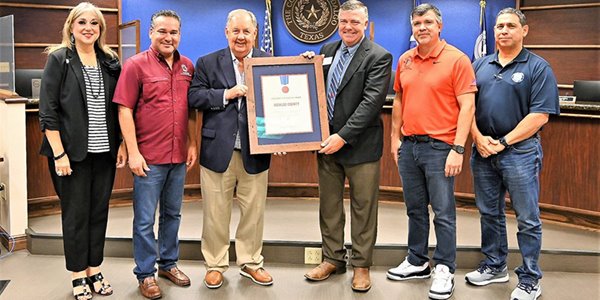 Montgomery County (two awards)
Precinct 1 Constable Philip Cash launched a mental health crisis intervention follow-up program to help people suffering from mental illness, reducing the number of arrests for offenses related to mental health and easing the strain on the county jail and local court system.
Precinct 4 Constable Rowdy Hayden's Constable 180 program introduces people in custody suffering from addiction to the possibility of recovery.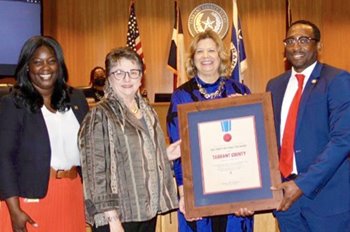 Tarrant County (four awards)
Clerk Mary Louise Nicholson and her team used readily available technology to create quick response (QR) codes to more conveniently and cost-effectively elicit customer service feedback.
Precinct 3 Commissioner Gary Fickes and his staff started a project that brings together seniors to paint rocks for homebound individuals to brighten their day with positive messages and give the seniors who paint the rocks much-needed social interaction.
Criminal District Attorney Sharen Wilson established a new approach to handling adult sexual assault cases that has dropped the number of no-bill cases by grand juries dramatically during the past two years.
Wilson's office partnered with the Fort Worth school district to teach high school students about how the criminal justice system works. The program's success spurred interest from other school districts.
Williamson County
Precinct 3 Justice of the Peace Evelyn McLean launched a free program, "What Every Teen Should Know About Texas Law," for high school juniors and seniors that teaches them about Texas laws most relevant to them as teenagers. It also helps them navigate some basic adult tasks such as how to lease an apartment and buy a car.
Learn more about TAC's County Best Practices Awards Program at www.county.org/bestpractices.