Blog | October 28, 2022
A Better Life
Health & Benefits News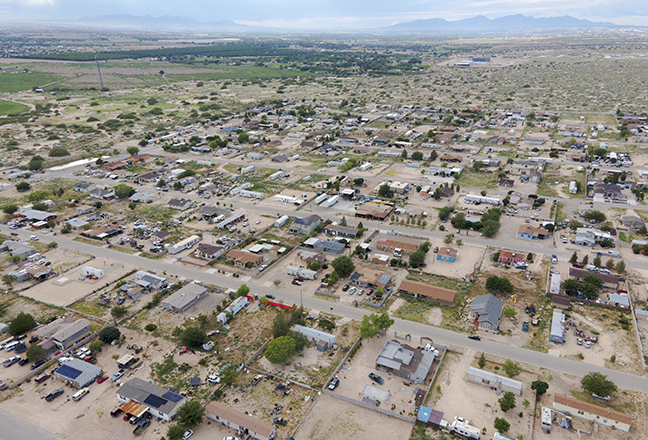 Elena Duarte came to the U.S. from her native Ciudad Juarez seeking a better life and refuge from the ever-present drug violence in the Mexican border city.
She remains convinced it was the right decision; in August, a prison gang feud spilled onto the streets
of Juarez, sparking a riot and ending in the loss of innocent lives.
But she never guessed the American Dream would have such a pungent odor. Duarte lives in Panorama Village, an unincorporated community in El Paso County known as a colonia, where affordable prices and proximity to jobs and the border outweigh the modest living conditions.
Defined as border communities in which residents lack either potable drinking water, sewage services or both, colonias number in the thousands across the country, and hundreds of them lie in El Paso County.
"When I decided to come to the U.S., I thought, 'Well it's going to be a better life, right?'" she said. "But in my home in Juarez, I had, for example, wastewater services, water, light, cable, a telephone line, internet, and everything was in working order."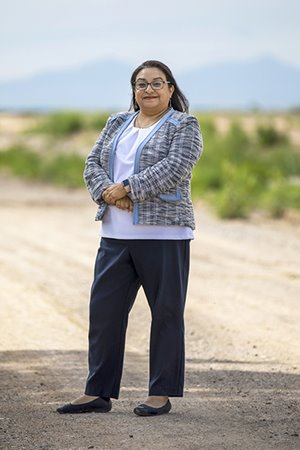 She did not expect to see residents in the U.S. using septic tanks to collect sewage.
It's late summer, and Duarte's septic tank has recently been emptied, but it's a service — she pays hundreds of dollars for this each time — that only comes around every couple of months, and when the tanks are full of sewage, they send an unmistakable smell wafting through the neighborhood, more so when it's warm outside.
Though her water is treated and potable, she vomited the only time she drank from the tap. Since then, she has done what many of her neighbors do; she buys bottled water, a costly expense.
But septic tanks may be a thing of the past for Duarte and her neighbors when El Paso County completes a multimillion-dollar project to bring water and wastewater services to colonias currently lacking one or both utilities. El Paso County will draw from federal American Rescue Plan Act (ARPA) funds to carry out the work.
The work will connect hundreds of properties in rural El Paso County to the Lower Valley Water District's public sewer line.
The $1.9 trillion American Rescue Plan Act, signed by President Joe Biden last year, gave counties throughout the U.S. funds for, among other eligible projects, water, sewer and broadband infrastructure. About 20% of El Paso County's $152 million in ARPA money, or $30.4 million, will go toward infrastructure projects in 12 colonias, benefitting more than 3,600 residents.
"One of the first things that the (El Paso County) Commissioners Court agreed on is that … these ARPA dollars were intended to be really transformative, to help people who didn't have this infrastructure that so many of us take for granted," said Commissioner Iliana Holguin, whose Precinct 3 has the most colonias of any El Paso County jurisdiction.
The $65.1 billion in ARPA funds run the gamut of projects aimed at connecting communities and strengthening the economy. In El Paso County, these funds are helping to pay for such investments as staffing county courts for the advent of virtual and hybrid courtrooms and defraying funeral costs for the more than 1,700 COVID-19-attributed deaths in the county.
Bringing the colonias up to modern infrastructure standards has been a decades-long endeavor since the first of these communities started cropping up along the Texas border around the middle of the 20th century. The colonias benefitting from the ARPA-funded projects have been around for more than 40 years.
As farmers in rural parts of the border began trading in their overalls for business suits, land in once-agrarian communities became surplus to requirements. Landowners began selling their plots to recent immigrants who saw owning land as a way to achieve the American Dream. Access to clean water and public sewer lines, the buyers were told, would be brought online in short order.
But substandard housing conditions persisted for generations in many of these communities. It wasn't until 1989 when the Texas Legislature passed laws forbidding the establishment of new colonias that the practice was regulated, requiring new residential developments to meet state standards for water and sewer services. Funding to bring the previously existing colonias up to state standards, however, has lagged.
"The Texas Legislature has put Band-Aids on the colonia situation over the years, but there's never been enough money to take care of the whole situation," said Alan Bristol, County Relations Officer for the Texas Association of Counties.
After the work in El Paso is complete, there will remain dozens more colonias that will not have access to either water or wastewater services. Connecting these communities to public utilities can be a costly endeavor, and the approach to developing them has taken years and creative fundraising efforts. Funds for a separate project to deliver water to colonia residents, for example, are coming from a California-based nonprofit organization called Digdeep that works to bring running water to American homes that lack it.
Even though a fifth of El Paso County's ARPA funds are devoted to delivering utilities to the colonias, "that's still nowhere near enough," Holguin said.
"We would need a lot more than that if we wanted to get everyone in El Paso County connected, but ultimately that's the goal," she said. "The county has been very, very aggressive in trying to find funding."
To be eligible for public funding, these underserved housing developments have to be formally recognized as colonias as set forth by the 1990 National Affordable Housing Act. The U.S. Department of Housing and Urban Development has not formally designated a neighborhood of about 14 families in Holguin's precinct as a colonia, but it has all the markings of one: no access to basic utilities or inbound roads. In fact, residents there use the banks of a canal belonging to the local irrigation district to get to their homes, Holguin said.
Guillermina Gina Núñez-Mchiri, who taught anthropology for years at The University of Texas at El Paso before recently becoming the dean of San Diego State University-Imperial Valley, has been researching life in the colonias since she was a doctoral student. The U.S. Census Bureau invited her during her studies to help the agency identify hidden communities.
"You can drive by and not know that you just went by a colonia because they're behind a field or behind some other space," Núñez-Mchiri said.
Munzer Alsarraj, a program manager for El Paso County Public Works, said he was shocked to learn 15 years ago that there were communities that still lacked these basic services. He said about 95% of his job is now devoted to infrastructure projects in the colonias.
"Once you're out there, you're like, 'How is this possible?'" Núñez-Mchiri said. "How is it possible that people still live in these conditions after decades?"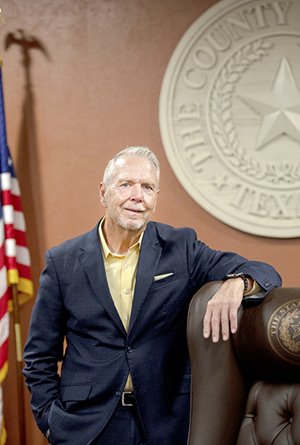 About 135 colonias in El Paso County lacked wastewater services as of August, Alsarraj said. In two years, when the ARPA-funded development and other public works projects are completed, that number will come down to about 100, he said.
Most colonia residents in El Paso County use a septic tank to collect their wastewater. They're responsible for the routine maintenance of these systems and pay hundreds of dollars every few months for them to be cleaned and pumped. Some residents use illegal systems known as cesspools that can range from underground pits to homemade septic tanks not built to regulatory standards, causing a public health hazard, Alsarraj said.
Septic tanks are also prone to failure; some of the systems colonia residents own are decades old, dating to the 1970s. When septic tanks fail, they can cost residents thousands of dollars to repair or replace.
Rep. Tony Gonzales, a Republican from San Antonio whose district stretches westward to the outskirts of El Paso, voted against the American Rescue Plan but has worked with El Paso County on another project to bring wastewater collection to colonia residents. The $2.5 million project will serve more than 1,000 people in 352 homes. Gonzales advised anyone in public service to go out to the colonias and see the conditions firsthand.
"You'll see the time warp that is essentially happening," he said. "If you're a public servant, you will have no choice but to say this is wrong. … We have to fix this."
County Administrator Betsy Keller said that while public works projects in the colonias often come with a huge price tag, the cost of El Paso County residents not having access to clean water and sewage is immeasurable.
"The American Rescue Plan is a once-in-a-lifetime opportunity to fund projects that would have taken years to fund," Keller said. "Children born today will now have resources that they would have not likely seen until adulthood."