Blog | October 28, 2022
County officials prepare for 2023 session at TAC Legislative Conference
Health & Benefits News
About 500 county officials and staff members from across Texas gathered in Austin in late August for Texas Association of Counties' 2022 Legislative Conference. Another 235 participated online as attendees dug into the details of numerous issues counties can expect to face when the Texas Legislature convenes in January.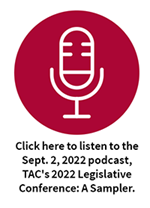 A busy and informative three days began with Texas Comptroller Glenn Hegar discussing the state's economy during the conference's opening general session on Aug. 24. In July, Hegar estimated the state would have a $27 billion surplus available to carry over from the current budget biennium to the next – a nearly $14 billion increase from his previous estimate in November 2021.
"The foundation of the state – the economy – has been absolutely phenomenal," Hegar said. As a result, "revenues have been off the chart," he said.
Hegar also talked about the state's efforts to expand high-speed internet access. The Texas Broadband Development Office is located within the comptroller's office.
"Our job is to connect people" in the best way possible, Hegar said. So, Texas is technology neutral when it comes to broadband, he said. A fiber-optic network may be desired, but the state's size, population and resource differences don't make it the most practical choice in some areas, especially rural ones.
"You want to have the paved road, but you'll take the caliche road," Hegar said.
Broadband came up repeatedly throughout the conference in multiple sessions and was the topic of its closing panel discussion on Aug. 26. The pandemic underscored how important access to high-speed internet is.
Between the opening and closing general sessions, TAC's Legislative team members moderated informative panel discussions with county officials, state and federal lawmakers and policymakers, staff members of the National Association of Counties (NACo), and subject-area experts. Topics included bail bond reform, mental and behavioral health issues, federal and state funding available for counties, property taxes, elections, emergency management, the American Rescue Plan Act, and the Infrastructure Investment and Jobs Act.
Attendees also had the opportunity to visit with vendors in the conference's exhibit hall and attend a meeting of their individual county affiliate organizations. An ice cream social and a legislative reception capped the conference's longest and busiest day on Aug. 25.
NACo representatives at the conference included the organization's president, Will County, Illinois, Board Member Denise Winfrey.
"Some similarities between Illinois counties and Texas counties – and in fact, it's true for all the counties, parishes and boroughs across the United States – is how to provide the services that residents want at the level that they want, and still be able to keep the taxes at the level that they want," Winfrey said during an interview with TAC's podcast, "Texas County Voice."
"Counties are the fabric that makes America stronger," she said.
For many county officials, the conference underscored the importance of being engaged with the legislative process by taking advantage of both TAC's and NACo's resources.
"There are usually no one-size-fits-all answers for our counties. And if we don't engage, (state and federal lawmakers) are going to be hearing from other interest groups that aren't counties on how these programs ought to work, and that's not going to be to our benefit," Wise County Judge J.D. Clark said.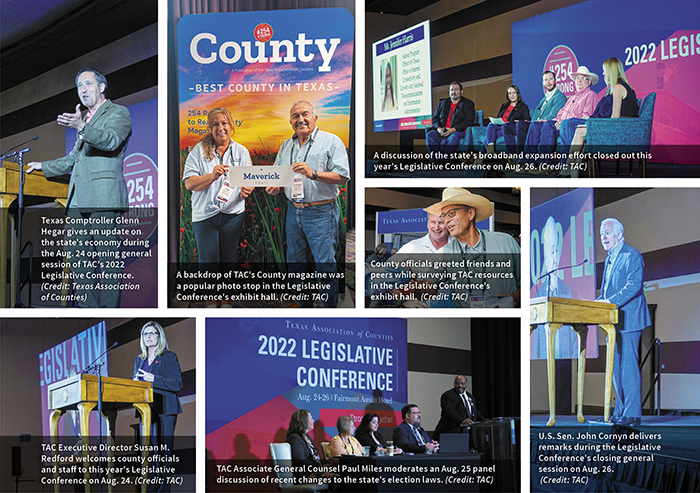 The final morning of the conference began with remarks by U.S. Sen. John Cornyn. Afterward, the senator sat down with TAC Legislative Director Noe Barrios for a question-and-answer session.
Through each crisis of the past few years – Hurricane Harvey, COVID-19, 2021's deadly winter storm, this year's tragic school shooting in Uvalde – Texans have looked to counties for leadership and support, Cornyn said.
"People know you. They trust you," he said.
The conference wrapped with a sense of accomplishment and a clear glimpse of the work ahead.
"The counties are going to have a heavy lift during the legislative session," TAC Executive Director Susan M. Redford said. "There's a lot on the table to be discussed.
"It will be a fascinating year," she said.
TAC's 2023 Legislative Conference is scheduled for Aug.30-Sept. 1 in Austin. Registration opens Jan. 17. Stay tuned for more information to be posted soon on www.county.org/calendar-of-events.
(A version of this article first appeared in TAC's County Issues legislative newsletter.)