Blog | October 28, 2022
Montgomery County Sheriff's Office wins jail innovation award
Health & Benefits News
The jail division of the Montgomery County Sheriff's Office was honored recently for its cutting-edge education and rehabilitation programs, including efforts to uplift incarcerated veterans.
The National Sheriffs' Association announced during the spring that Montgomery County Jail had won its annual Corrections/Jail Innovations of the Year Award, created to recognize an "innovative process, program or procedure" that has contributed to improvements in jail operations or environment.
The jail's Veterans Embracing the Tools for Success program, or VETS, has since May of 2017 provided veterans at the jail with valuable resources to address post-incarceration needs, while the High School Initiative, begun in 2016, allows of-age high school students to continue their current school path.
"We have instituted a multitude of innovative programs that we hope will reduce recidivism and provide those under our care with skills needed to succeed in life," said Montgomery County Sheriff Rand Henderson, who oversaw the implementation of the new programs. "Our jail staff certainly deserve this award, and I am proud to call them members of our team and acknowledge them for their compassionate and professional hearts."

The VETS program, which has 10 to 20 participants at a time, offers biweekly group counseling, weekly individual counseling, weekly case management, and a veteran peer mentorship program, according to Sheriff's Office spokesperson Scott Spencer. It was originally inspired by the Stars and Stripes Reentry Program in the Harris County Sheriff's Office, which was implemented in 2014 to assist in the successful reintegration of incarcerated veterans at Harris County Jail.
Through the High School Initiative Program, created in collaboration with the Conroe Independent School District, more than 25 students have been confirmed as graduated, either through the jail or through their home campus, upon release.
These two programs have also been recently highlighted during special presentations at the annual conferences of the Texas Jail Association and Women in Criminal Justice. The programs are funded through state grants, inmate commissary funds, and the general fund for the Sheriff's Office, Spencer said.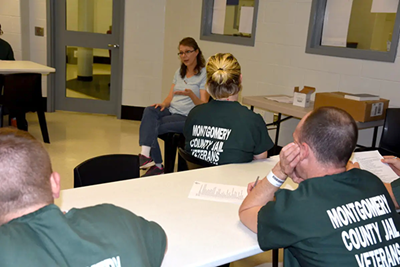 Both programs win applause from criminal justice professor and researcher Howard Henderson of Texas Southern University in Houston.
"The research has shown that those types of programs work, because they stabilize individuals and get them what they need so that they can become productive citizens again," said Henderson, who is also founding director of the Center for Justice Research and a Montgomery County resident.
Getting them a job, medical services and mental health support can reduce the chance they will commit another crime.
"One of the most significant predictors of recidivism is being disconnected from society – being an outsider," Henderson said.
Spencer said their most successful graduates are those who pay it forward by working or volunteering for the same organizations that assisted them.
Spencer agrees that connecting incarcerated individuals to a broader county community is an essential part of the jail leadership team's mission.
"These programs rely heavily on meaningful community partnerships," he said. "We strongly encourage other counties to reach out to their community partners and assess what resources are available."
Written by: Clayton Stromberger