Blog | October 29, 2022
San Saba County
Health & Benefits News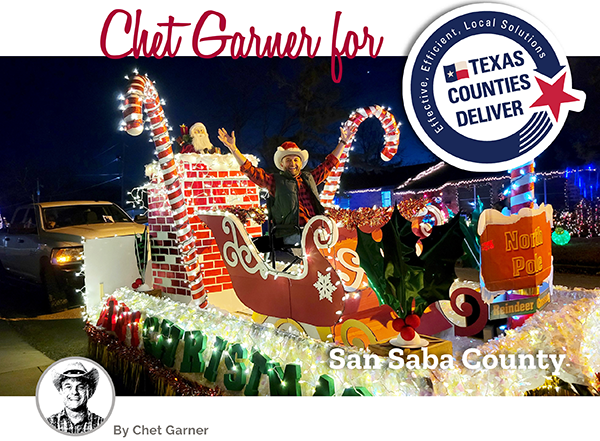 When the weather turns cold in Texas (or at least colder) and the leaves fall from the trees (that aren't live oaks and pines), it's time for county squares and courthouses across Texas to come to life with decorations, lights and cheer. Texas courthouses are beautiful enough on their own, but during the month of December they really put on a show, especially after dark. It would be nearly impossible to put together a comprehensive list of everything Texas counties do to celebrate the season, but below is a short list of counties and communities that go above and beyond to bring the Christmas cheer to their residents.
Hood County: Travel to Granbury, and you'll find the town square dressed to the nines and bustling with shoppers, singers and sippers all through the season. Every weekend, you'll find Mr. and Mrs. Claus set up in the county gazebo, making a list and checking it twice. Don't miss the Granbury Living Christmas Cards display, where giant holiday cards surround the courthouse and come to life with actors, dancers and stories.
Lavaca County: Somebody once counted and found more than 300,000 lights strewn across the county courthouse and draped from the top of the spire to adjacent buildings to create a stunning canopy of lights. This season of festivities is the pride and joy of Hallettsville, and the residents put on a show that's big enough to make Texas proud. The annual parade feels like a living Norman Rockwell painting.
Blanco County: Imagine so many lights on the courthouse and nearby that NASA reported seeing them from the International Space Station. That's what you'll find draped up and down the historic courthouse in Johnson City. This square is the shining jewel of the Hill Country's spectacular trail of lights. If you want a full tour at a slower pace, hitch a ride on a horse-drawn carriage or tractor-pulled trailer.
Harrison County: This may be the only county square where you can ice skate below the lights of a beautiful Texas courthouse. Seriously! Marshall's "Wonderland of Lights" is a must-see and makes this entire historic district feel like the set of a Hallmark movie. The county decorates the courthouse with thousands of twinkling lights and even sets up a vintage carousel to set the mood.
Williamson County: Some call it "the most beautiful town square in Texas," and during the month of December, it's hard to disagree. The courthouse in Georgetown is decorated from top to bottom with plenty of photo ops all around the grassy lawn. Mark your calendar for the day after Thanksgiving, when thousands attend the annual "Lighting of the Square" to watch the lights come on with one flip of a switch.
County courthouses and Christmas lights are so ubiquitous that it's easy for us to forget about the thousands of hours it takes to put the displays together, along with the committed cities, chambers, and volunteer organizations that often spearhead the efforts. So, thank you to everyone who helps keep the season merry and bright. You're shining proof that Texas Counties Deliver.
Texas Counties Delivers
by Chet Garner
Read about Texas counties' rich history, culture and service to their communities in each issue of County magazine. Watch Chet on PBS' "The Daytripper" and follow him on Twitter and Instagram @ChetTripper. He can also be found on YouTube and Facebook @thedaytrippertv.