Blog | October 28, 2022
Judge Curtis Evans
Health & Benefits News
How long have you been County Judge?
I was elected in November of 2020 at the general election. Since our Judge (Kerith Sproul-Hurley) had passed away in August of 2020, I took over immediately in November from Larry Francell, who had been appointed by the Commissioners Court.
What did you do before you became County Judge?
I was a commissioner for 20 years, so I understood some of the workings of county government, but when I took over the judge's job, I learned very quickly you never know what is going to come to the door next.
How did you become interested in running for office?
My neighbor on the ranch, Billie Weston, was retiring (from the Commissioners Court), and he asked me if I was interested in it, and I said, "You bet." When I was in high school, I became politically active through Future Farmers of America. I've always enjoyed helping out and understanding how the processes for procedures and policies take place and stay within it.
What was the biggest surprise or adjustment after taking office?
(As commissioner), you're dealing with your constituents, as far as the roads are concerned, as far as what is going on in your precinct in the county, and then working with your other commissioners to do what is best. When you become the judge, you have to transition to wearing numerous hats. In a small county like this, you're the head of HR. You're the head when something breaks. Everyone comes to you. And being a judge of misdemeanor trials, it's very important. It's pretty well cut and dry as to what you do and your judgments and common sense plays a huge role. I was pretty well blessed with common sense, growing up on a ranch and growing up in the ranching community. My mom died when I was 15, and then, I was on my own to run ranches, and I went to high school and graduated from college and was pretty much running a business when I was 15 years old.
Since taking office, what accomplishment are you most proud of?
The accomplishment I think I can be most proud of is the good Lord has blessed me with people around me that are willing to work, and we all have the same goal in mind as far as doing the very best for the community and county.
We've acquired a new community center. It was purchased with money that didn't affect our community or the running of our county. We didn't go into debt, and now we own this great facility that is going to benefit us in numerous ways.
"When you become the the judge, you have to transition to wearing numerous hats."
— Judge Curtis Evans, Jeff Davis County
We hear that your dog Lou sometimes joins you in probate hearings. Sounds like a treat for any human — and dog — attending court. How did that come about?
Well, I really like dogs — I like animals, period. I've grown up with them all my life and, in just watching people around animals, they're more sincere when they see an animal. Their walls are kind of let down. When I came into the judge's office, I got a new puppy, and Lou kind of grew up here in the office with me. Whether a person is upset that comes in the office or they're sad, Lou will pick them out and go to them, just kind of a comfort.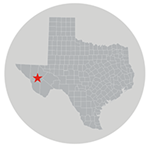 What do you do when you're not at work? Do you have any hobbies or are interested in something unique that may surprise your colleagues?
I have a heavy equipment construction business that my son is running, and that keeps me busy. When I'm not in the office, I have the ranch where I lived; it's been in my family. I raise hair sheep and I train team roping horses. I go every year to the World Series of Team Roping and qualify for Las Vegas for the World Series final. It's always in December.
What is your favorite thing about Jeff Davis County?
It's the people, and the beauty of this county. Everybody out here knows that in order to make a living, you got to get along. It's part of our heritage and (with) tourism coming in, I welcome it because it helps us out in our communities. Everybody is on the same page trying to help each other out.