Blog | April 29, 2022
County clerks' offices hold the key to Texas history
Health & Benefits News
For years, Lavaca County had stored many of its historical documents in an old railroad boxcar parked in a pasture east of Hallettsville — boxes of records, including court documents, tax paperwork and land grants, that were hundreds of years old.
Other important files were tucked around the county courthouse, scrunched onto top shelves and scattered in offices — wherever workers could find the space. Twenty years ago, when Lavaca County Clerk Elizabeth Kouba took office, she began the process of restoring and preserving these records. The county didn't have the money to hire an outside company to do the work, so Kouba applied for a National Endowment for the Humanities grant to train county staff members to do it themselves.
Box by box, they dug through old documents, uncovering gems such as an 1844 land grant signed by Sam Houston. They put them in acid-free folders and moved them to fireproof and climate-controlled rooms in the courthouse annex, where they are now protected.
This year, Kouba retires as county clerk after 20 years of service. She considers the preservation work her greatest legacy.
"Preserving our county's history ensures the future of county government," she said.
According to Section 191.001 of the Local Government Code, county clerks, who are elected by the public, serve as the custodian of records, including property records, marriage and death certificates, commissioners court minutes, court filings, maps, plats and other historical documents. It's up to them to ensure these records are preserved, and now digitized.
It's a duty many take very seriously.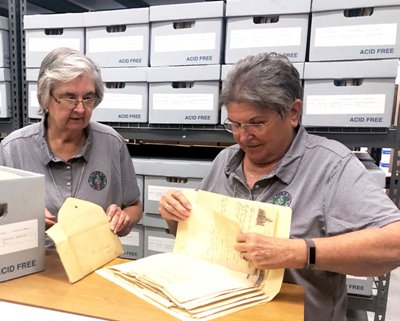 While preservation has always been crucial, digitizing records has become even more important over time. With files spread across Texas' 254 counties, it's often difficult for researchers to go from place to place and dig through boxes to uncover important history about the state.
And if something catastrophic happens, a fire or flood, records are at risk of being destroyed.
Digitizing records is also important for the day-to-day business of counties. Attorneys rely on civil and criminal court records to try cases. Land records prove ownership of property. Veterans use military discharge documents to obtain benefits. Genealogists research records to find their family's history.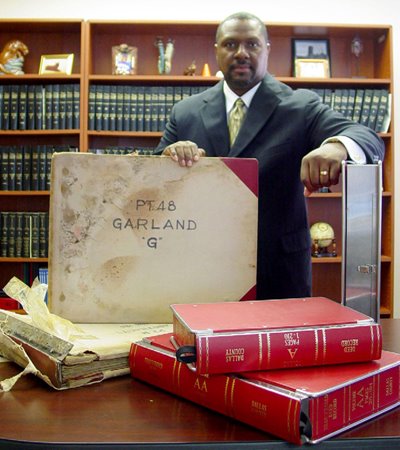 Dallas County was the first in Texas to completely digitize its records back in 2010. County Clerk John Warren had run for office on a campaign platform of "making the county a completely virtual office." With a background in courts and technology, he said there would be a day — and probably soon — that a lawyer would be able to argue a case entirely from a computer. And with the pandemic, Warren said making files available online has become even more essential.
"Half of our processes will remain in a virtual environment," Warren said. "Digitizing records gives us the ability to share information electronically versus coming down (to) the office."
So far, Dallas County has digitized 650 million records dating back to 1846, which equates to more than a billion pages. To pay for the project, the county used records management and preservation funds collected when people file deeds or court records with the clerk's office. State legislation allows counties to collect fees to file these documents, costs that have increased over time so smaller counties can raise funds fast enough to begin preservation work.
Kouba said she had to save 10 years' worth of records management fees to begin digitizing her county's records, a process lasting for nine years now.
For many, preserving county records has been a surprisingly emotional process.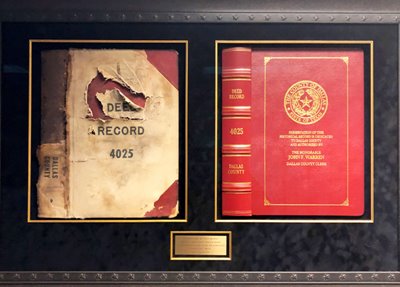 When Bexar County Clerk Lucy Adame-Clark took office in 2019, her predecessor brought her to a vault at the federal building on Nueva Street, where the county houses its historical archives. She spotted an original 1836 mapping of the creeks and rivers in Bexar County, so crumpled in a box that you could barely tell what it was. "It was heartbreaking," she said. "And eye-opening for me and my staff."'
Here was an important piece of history, she said, basically abandoned and disintegrating in front of her eyes.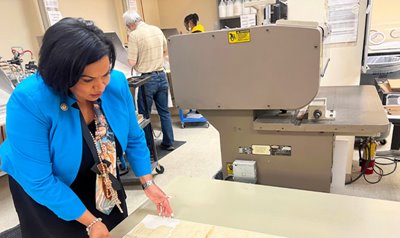 The moment sparked Bexar County's now three-year, $18 million effort to restore and preserve its archives, including digitizing them so they are available for county employees, the public and researchers to use. The company hired to preserve and digitize the records, Kofile Technologies, recently returned the crumpled river map to Adame-Clark. "I was emotional when I saw it," she said. "I didn't think they would be able to restore it."
Adame-Clark hopes one day all Texas counties will be able to preserve and digitize their records, so researchers can unlock important information about the past. "As our families are dying, their history is written somewhere in every county clerk's office," she said. "Our books in school can only tell so much."