Blog | April 29, 2022
Juneteenth's legacy in Galveston County
Health & Benefits News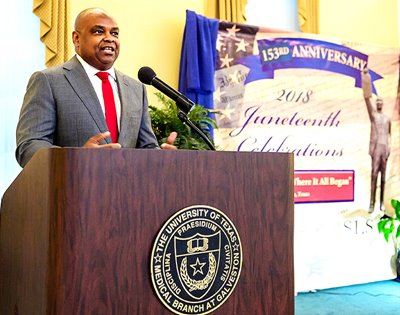 Back in the 1970s, when Galveston County Commissioner Stephen Holmes was a kid growing up in Dickinson — 20 miles north of Galveston Island — he didn't really know the full story behind the local celebrations, held each year on or around June 19, known as Juneteenth.
"I don't think I grasped the full historical significance of it until I was older," says Holmes, who has served as Precinct 3 commissioner since 1999. "It wasn't something that was taught in school. I learned about it through the community. One thing I remember was the weekend baseball games we had every year with a team from Brenham. Everybody in the African American community would go."
That baseball series ended in the late 1970s, Holmes said, but Juneteenth — which celebrates the date in 1865 when Black people in Texas first learned of the Emancipation Proclamation and their freedom from slavery — has only grown in significance and public awareness since then, becoming a federal holiday in 2021.
Now Juneteenth is the busiest day on Holmes' calendar, filled with official and unofficial personal appearances at community parades, galas, banquets, a gospel festival and even a poetry slam. One highlight each year is the morning reenactment in Galveston of the first reading of General Order No. 3, brought to the island on June 19, 1865, by Gen. Gordon Granger of the Union Army and read aloud on that date in various locations throughout the city.
"The people of Texas are informed," the order begins, "that, in accordance with a Proclamation from the Executive of the United States, all slaves are free." The Civil War had ended two months earlier, when Confederate Gen. Robert E. Lee surrendered to Ulysses S. Grant — and Abraham Lincoln had signed the Emancipation Proclamation two years earlier, declaring that "all persons held as slaves" in rebellious states "are, and henceforward shall be free." But it took time for the Union Army to arrive in Texas and enforce the proclamation.
Juneteenth celebrations began the next year in Galveston and in Black communities throughout Texas, and they gradually spread nationwide. One turning point for a broader recognition of the date came in 1979, when state Rep. Al Edwards of Houston sponsored legislation to make Juneteenth a state holiday. In many counties, including Galveston, it is now also a county holiday.
The jubilant spirit of Juneteenth that Holmes remembers from his childhood is still a vital part of the gatherings he attends in towns from Hitchcock to Texas City each June 19. But now that he knows more about what happened 157 years ago on that date just down the road from his hometown, Juneteenth is also a moment for reflection.
"When you're at the Ashton Villa building in Galveston," Holmes said, "where Gen. Granger stayed, and you see the reenactment of the reading of the order, and you're thinking about the slaves at that time, what they may have been thinking. … You know, you think you … have to go work in the fields again that day, and then all of a sudden someone tells you, 'You're free.' … It can be a very moving experience."
Written by: Clayton Stromberger