Blog | April 29, 2022
Matagorda County's Jetty Park
Health & Benefits News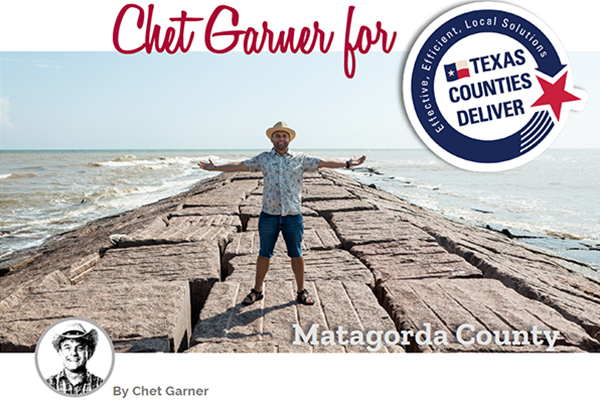 I've lived in the Texas Hill Country for more than two decades — which is synonymous with saying that I've spent a lot of time swimming in the Colorado River and the numerous lakes built along its path. And as I've spent countless hours floating on a foam noodle staring at the clouds, one of my most common recurring thoughts is, "What would happen if I just floated off and let the river take me where it may?" Well, I discovered the answer to that question and found a Texas coastal county that's home to one of the most special places in our state — a place where two Texas titans collide.
The Colorado River is the same river that flows through our capital city and less than a mile from the Capitol. It originates near the West Texas town of Lamesa in Dawson County and flows for over 850 miles toward its grand finale in Matagorda County. It's here, at a small county park named Jetty Park, that the mighty Colorado succumbs to the even-mightier Gulf of Mexico in a battle that all Texans should witness firsthand.
I could feel the humidity rise as I crossed the Matagorda County line and passed through the historic town of Matagorda. If I hadn't had GPS, the countless bait stands and brightly colored fishing huts would have let me know that I was heading in the right direction. Very soon I arrived at Jetty Park. I could have easily parked in the paved lot but noticed a few other trucks driving on the sand and disappearing behind the dunes. I kicked my truck into four-wheel drive and found the unofficial fisherman's lot right next to an enormous stone jetty that jutted out into the Gulf for at least 500 yards.
I hopped atop the giant granite rocks and began my hike past dozens of fishermen with their hopeful hooks in the water. To my right was the freshwater of the Colorado River and to my left was the salty surf of the Gulf. At the end of the jetty was a whirlpool of violent waves, as if some invisible hand was stirring a pot of soup. The Colorado River was destined to lose, but clearly, it wasn't going down without a fight. The aggressive tussle was also stirring up lots of fish that both the anglers and bottlenose dolphins were hoping to make their dinner.
I've seen hundreds of miles of Texas coast but never anything like Jetty Park. Since I didn't have a fishing rod, I kicked off my shoes and waded into the surf. Because of the violent tides, swimming isn't allowed in this one area. But visitors can set off in either direction and enjoy over 50 miles of incredible, undeveloped coast. The adjoining Matagorda Bay Nature Park also offers amazing places to bird-watch, camp and kayak through the coastal wetlands.
I left thankful that the county realized what a special place this is and that it works with the Lower Colorado River Authority to not only protect it but to also open it up for residents and visitors to enjoy. That's just another way that Texas Counties Deliver.
Texas Counties Delivers
by Chet Garner
Read about Texas counties' rich history, culture and service to their communities in each issue of County magazine. Watch Chet on PBS' "The Daytripper" and follow him on Twitter and Instagram @ChetTripper. He can also be found on YouTube and Facebook @thedaytrippertv.