Blog | April 29, 2022
NACo forum explores quickening of technological change
Healthy Byte Wellness News
The disruptions of the COVID-19 pandemic over the past two years have accelerated the digital transformation for counties. Before the outbreak, some counties were experimenting with laptops, a paperless office and Slack or Microsoft Teams, said Sybil Gurney, assistant chief information officer for Alameda County, California. "When the pandemic hit, we went into light speed," she said.
In addition, the pandemic has raised concerns about digital equity, "low code" solutions to programming problems and shifts in the labor market. Chief information officers (CIOs) and other county officials gathered in person and on the web during February to discuss solutions to these issues during the 2022 CIO Forum, which opened the National Association of Counties Legislative Conference in February.
Digital equity
Technology and connectivity have become essential, said Craig Rice, a member of the Montgomery County Council in Maryland. However, the needs of residents don't always follow common assumptions, he said. His county is in the metro area of Washington, D.C., but about a third of it is farmland, and when he meets with farmers, the No. 1 issue is bandwidth, he said. They need connectivity to check on the prices of their commodities and to link to their farm equipment, including combines and drones, Rice said. On top of that, the farmer's children may be competing for internet time as they try to do their homework, he said.
In the state of Washington, King County is home to Microsoft and Amazon, yet 16% of residents didn't have internet access at home in a 2019 survey, said Shannon Smith, chief of staff for the county IT department. Income and access are linked in her county, she said. Residents who earn less than $50,000 a year are less likely to have internet service, she said. "It creates this vicious cycle that allows people to be unable to thrive," she said.
Low code solutions
The U.S. labor market has been shaken by two additional forces recently: the "great resignation," when numerous people quit their jobs last year, and the "silver tsunami," a wave of retirements by baby boomers. In response, some counties are turning to a low code approach to IT, which means finding systems that require minimal programming.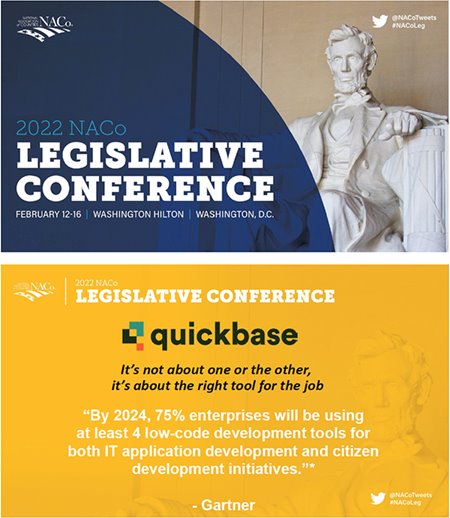 Nate Greenberg, IT director for Mono County in California, said his department's journey was given a big push by COVID-19. "We were basically thrown into the frying pan," he said, and the use of the platform Quickbase, which the county had been working with for several years, expanded rapidly. "What we've seen is the floodgates open," he said, as Quickbase has made its way into other departments because of its agility and value.
In Texas, Tarrant County used the platform to build an online COVID-19 tracing and vaccine distribution system in two weeks.
It helped the county to get all its doses distributed and 25% of its population registered for vaccinations.
Back in California, Alameda County quickly put together a system for virtual weddings using electronic payments, DocuSign for marriage applications and Teams for the ceremony. The county held 3,000 weddings in its first year, Gurney said. "We couldn't believe that we were able to pull off something like this over the weekend," she said.
For Project Roomkey, the county turned to Salesforce software to help place disadvantaged older adults and the homeless in hotels during the pandemic. The system was up and running in two weeks, Gurney said. It also helped more than 1,000 homeless people find permanent shelter, she said.
During the pandemic, it was important to remain flexible, Gurney said. "Everything is evolving, everything is changing, everything is new."