Blog | April 29, 2022
What's next for COVID-19 in Texas?
Health & Benefits News
As of early spring, COVID-19 cases and hospitalizations in Texas have seen a sharp decline, after a winter surge driven largely by the more contagious omicron variant. Although Texas counties are welcoming the respite, officials should remain vigilant of possible mutations to the virus and should continue to be a resource for residents on local transmissions and vaccines. County magazine spoke to Dr. Jennifer Shuford, chief state epidemiologist with the Texas Department of State Health Services, to provide counties with answers to the state of the pandemic.
Q: What's the status of the COVID-19 pandemic?
A: As of early spring, cases, hospitalizations and fatalities were dropping week by week as immunity grows among the masses. A study by the state, in partnership with The University of Texas School of Public Health, has followed 89,000 Texans and found that 99% of them have some measurable degree of antibodies from COVID-19, either from natural infection or vaccination.
As of late March, no new variants were yet threatening to drive up COVID-19 cases, but state officials were closely monitoring the so-called sublineages of the omicron variant, BA.1 and BA.2, which were spreading in other parts of the world and making up a growing proportion of cases in Texas. Because the sublineages are relations of the omicron variant, those who became infected with the omicron variant would have more immunity to the sublineages for a period than if they were exposed to a new variant, Shuford said.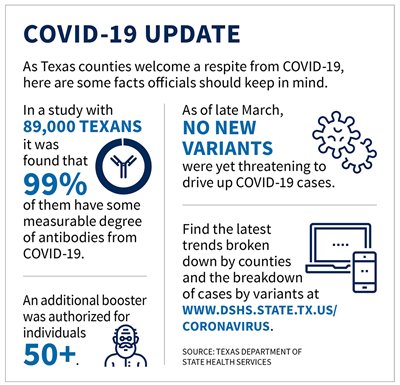 Q: What should counties do during this downturn?
A: Counties continue to be a critical partner in getting information and vaccines to local communities, Shuford said. In March, an additional booster was authorized for individuals 50 and older.
"Being fully vaccinated continues to provide protection against the virus," Shuford said. "Even if it's not as strong as it was against that first strain of COVID-19 that came out, it still does provide protection, especially against severe disease and death."
Although many masking requirements have been lifted in counties, Shuford said, individuals should know they still have the choice to wear one, especially when they're in cramped spaces in poorly ventilated areas.
Counties continue to be a critical resource for information on local spread. Although they have experienced delays in reporting data and home test results might not be reported to them, case reporting by counties can still give a strong representation of how pervasive the virus is in the community, Shuford said.
The state is trying to rely more heavily on laboratories that process results for local case reports, she said.
"A lot of those local health departments were working just night and day, trying to keep up with all of those reports for years of this pandemic now — they've been fantastic partners — so we're trying to shift to more of that electronic lab reporting from those laboratories," Shuford said.
Q: A lot of this pandemic has been out of our control and will continue to be. What can counties and individuals do to protect themselves?
A: It is impossible to predict when the next wave will occur, although monitoring how the virus affects other parts of the world can give Texas counties some time to prepare.
"People are very familiar with what they can look to, like the Johns Hopkins website or the New York Times, where they present worldwide trends that can be helpful," Shuford said.
Shuford encourages county officials and the public to visit the Texas Department of State Health Services webpages (www.dshs.state.tx.us/coronavirus) that show the latest trends broken down by counties and the breakdown of cases by variants, which can show which one might be gaining prevalence.
The Centers for Disease Control and Prevention also pulls data from the state into a website that assigns a level of prevalence of the virus to individual counties, helping inform how stressed the local health care system is (www.cdc.gov/coronavirus/2019-ncov/your-health/covid-by-county.html).