Blog | July 29, 2022
County libraries bring social services - and rockets - to communities across Texas
Health & Benefits News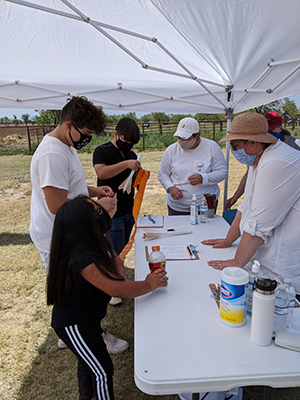 Every school day, about 35 students walk to the Jeff Davis County Library for lunch. There's no school cafeteria at the Fort Davis Junior-Senior High School nearby, so for about half an hour, Monday through Friday, the library — and its free food pantry — fills that void.
"They used to go across the street and pick up junk food at the dollar store," said Dawn Healey, the library's interim director. "Now they can pick what they want from the pantry."
The pantry is a joint project of the Jeff Davis Food Pantry and Friends of the Jeff Davis County Library, and its mission is to make sure every young person in the county has access to food.
On Tuesday and Thursday mornings, Healey leads an exercise class for about a dozen folks between the ages of 55 and 92 in the community room in the back of the building, and on hot afternoons during the summer, the historic building fills up with tourists who want to cool off and use the Wi-Fi. Sometimes people just need help figuring out how to get their hearing aids fixed. "We do a lot of reference work here," Healey said.
It's just another week in the life of a county library.
Of the 528 public libraries in Texas, 100 are overseen by counties, with additional 11 that are operated by city-county partnerships, according to Gloria Meraz, director of the Texas State Library and Archives Commission. Of the 28 million people in Texas, about 2 million live in an area without a public library, Meraz said.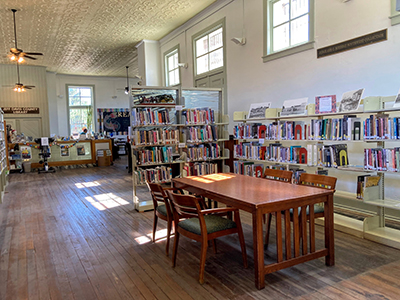 "Libraries are very organic creations," Meraz said. "Whether it's a county or city library, they are born out of their community to serve their community, and they each have their own personality."
During the past decade, county libraries have created programs to help residents sign up for health insurance and register to vote. During the pandemic, libraries added bookmobiles — libraries in buses or vans — that, in some places, such as Jeff Davis County, doubled as food pantries.
Although many people think about libraries as places to check out books, they have been essential to helping residents, particularly in rural areas where broadband service is limited, access more electronic resources, Meraz said. Many libraries are now offering Wi-Fi hot spots and laptops that patrons can check out to use at home.
"Libraries are at the front edge of how to get communities equipped with technology and skills to manage the digital environment," Meraz said. "No institution does more than libraries to help people participate in digital commerce and the online learning environment."
Texas counties spend a total of $117 million each year to operate these libraries, and county funds typically cover payroll, maintenance on the buildings and some new acquisitions. Many libraries rely on grants to cover additional programs and projects.
Counties typically operate libraries outside of large metropolitan areas. Such libraries sometimes allow book lending from another county or district.
"There are lots of grassroots consortiums that work together to share resources or even online catalogs," Meraz said. "Collaborating is in the DNA of how libraries operate. There's a willingness to help each other, especially in rural areas."
In San Angelo, the Tom Green County Library doesn't just serve residents in Tom Green County; anyone in Texas can get a library card, said librarian Amy Dennis.
Sandwiched between the Schleicher County Public Library in Eldorado and the Coke County Public Library in Robert Lee, the Tom Green County Public Library is a midsized county library system with three branches and a budget of $2.3 million that serves thousands of people across several counties.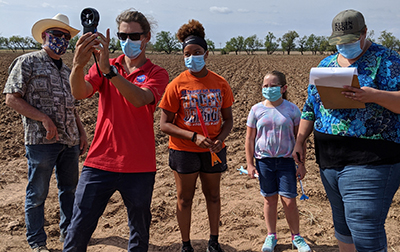 Using funding from the Texas State Library and Archives Commission, the library opened STEAM Central, a makerspace at the downtown location that includes long-arm quilting machines, 3D printers and die cutters.
Hobbyists and professionals alike are welcome to use the equipment after taking online tutorials on how to use them safely and completing a one-on-one tutorial with someone familiar with the machines.
"It's a hands-on way to apply things that you may learn in a book that you check out," Dennis said.
The Tom Green County Public Library will celebrate its 100th anniversary later this decade, and Dennis said that as the milestone nears, she's been thinking about the library not so much as an archive of county culture but as a mirror.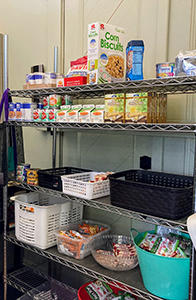 "Libraries are supposed to change with a city," Dennis said. "What we offer depends entirely on what the community needs."
One of the most popular programs has been Rocketry and Rovers, which the library operates in partnership with Angelo State University's engineering department.
Once a month, families with kids can come and learn how to build that month's rocket. A few days later, participants meet at a ranch that doubles as a launch site to try out their low-powered rockets. The grant from the U.S. Institute of Museum and Library Services, now in its second year, covers the cost of materials and participants' membership in the National Association of Rocketry.
"Some families come every month," Dennis said.
As libraries continue to evolve in the digital era, Meraz said there's one thing that doesn't seem to change: "We say in libraries that we help people from cradle to grave, and that's as true as ever."
Written by: Addie Broyles