Blog | July 29, 2022
Impulsive Traveler Guy makes Lone Star trek to all of Texas' 254 counties
Health & Benefits News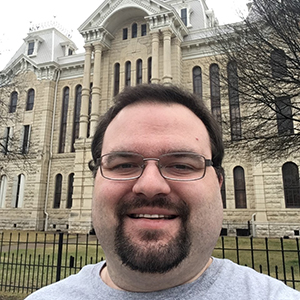 Former Austin resident Cody Esser, aka Impulsive Traveler Guy, is a man on a 10-year mission. He wants to visit every county in the United States, and Texas was his first conquest. He hit all 254 jurisdictions in only 52 days, and he marked each visit with a photograph in front of the county courthouse. "Texas is great overall for beautiful-looking courthouses," he said.
Esser, 33, lived in Austin from May 2014 to February 2020, and now lives in Belleville, Wisconsin. He had originally planned to take a year to visit all of Texas' counties, but plans changed and his timeline was accelerated. He was forced to complete his journey in three months — between December 2019 and February 2020.
Miles and miles of Texas
The final stop in his Lone Star trek was the Hill County Courthouse in Hillsboro. "It was a bittersweet moment as I really liked traveling throughout Texas," he wrote on his Facebook page, "but it was also grueling and I was exhausted. I was proud of what I accomplished!"
Esser is a faculty member for an online university, and that position lets him spend the weekends on the road. "Just like some people would spend the whole weekend hunting or fishing, I'll travel," he told County magazine.
In a warmup to his statewide quest, he visited every
Buc-ee's in Texas over three days in 2018.
In 2019, he and Victoria Burgess wed. "Victoria stays home most of the time that I travel," he said. "My style of travel is kind of grueling, where I'll often go from 4 a.m. to
10 p.m. and then sleep in my car. If she does come with me, it is usually because we're going somewhere to visit family or friends." And they stay in hotels on those trips.
Fatherhood and gas prices
His expedition has entered a slower phase now that the Essers have an almost 6-month-old son, Austin. Esser said that Impulsive Traveler Guy Jr. has already been on his first road trip; he went 150 miles to Marshfield, Wisconsin, to visit his great-grandmas. "It was an interesting experience," he said, "as we had to feed him at the rest stop."
Gasoline prices have also put a damper on his travels, but his trusty 2017 Ford Focus gets 40-plus miles per gallon, so that benefit helps soften the blow, he said. "With that being said, it definitely stings a bit."
As of mid-June, Esser had been to 700 counties and had added all of Iowa to his list. That number is more than one-fifth of the U.S. total of about 3,100. He expects that his quest to visit all of them will take 10 years. Esser is also a member of the Extra Miler Club, whose members all have the same goal to visit every U.S. county. But Esser's progress may be slow-going for a while, he said, because taking care of his son is his top priority.
Return visits and road food
When asked which five places in Texas he would like to revisit, he listed Palo Duro Canyon, Lockhart — for more barbecue — Sulphur Springs, Denton and the border by Eagle Pass and Del Rio.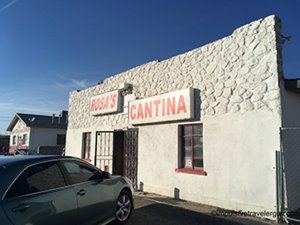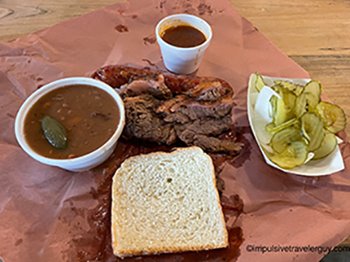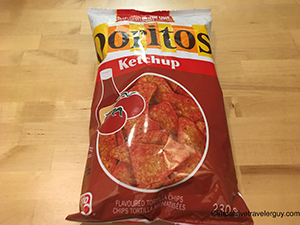 Among his many favorites are Rosa's Cantina in El Paso, Cooper's Old Time Pit Bar-B-Que in College Station, Slovacek's in West, Rodee's Country Fried Chicken in Eagle Pass and Salas Better Burger in Del Rio.
Esser's travels have also taken him across the border into Canada, where he likes to pick up ketchup-flavored potato chips. Canada even has ketchup-flavored Doritos. "Since I've been staying close to home," he said, "I've been eating a lot of cheese curds and landjaegers." A landjaeger is semidried sausage that's eaten as a snack.
To learn more about Esser's adventures and to see his photos and videos of county courthouses, road food and assorted oddities, take a look at his Facebook page (www.facebook.com/impulsivetravelerguy) and his blog (www.impulsivetravelerguy.com).