Blog | July 29, 2022
Five years after Hurricane Harvey
Health & Benefits News

On a recent week, there are few signs in Aransas County that Hurricane Harvey had raged ashore five years ago.
Where there were tree-littered streets in the immediate aftermath are now roads being newly paved. Where there were 8-foot-tall piles of debris are now lush green lawns with brightly painted homes. Where the remnants of the 1956 courthouse once stood now echoes the construction din from the building of a modern complex.
Harvey made landfall in Aransas County, near the county seat of Rockport, in the late hours of Aug. 25, 2017, causing mass destruction along its path. Recovery since then hasn't been easy, and it's still ongoing and expected to take another two to five years to complete. Multiple winter storms, hurricane threats and the pandemic have slowed some elements of recovery. Obtaining state and federal assistance has involved red tape, and property owners have been reluctant to approve bonds. Even so, Aransas County officials have made huge progress along the way, including obtaining $146 million in grants, helping countless residents gain housing assistance, and breaking ground on a new courthouse.
"We had groups coming here from Louisiana and from Florida, who the first thing they told us and the message they kept delivering to us was that this is not an overnight recovery," County Sheriff Bill Mills told County magazine. "This is a long haul."
The storm caused an economic toll of $125 billion, according to federal estimates, and put 60 counties on Gov. Greg Abbott's disaster declaration list as the storm stalled over Texas for days and flooded some areas with as much as 60 inches of rain.
For many Aransas County officials and staffers, the memory of the storm still lingers.
"I was born and raised in this town, so I've seen it grow a lot," Aransas County Judge Burt Mills Jr. said about the immediate hours after the storm. "I knew where things were by landmarks, but they were gone. I didn't even know where I was sometimes."
It was supposed to be a 'ho-hum' storm
No cyclone since Hurricane Celia in 1970 had been as storied for its destruction on the Coastal Bend as Hurricane Harvey, which ravaged Aransas County and several neighboring counties.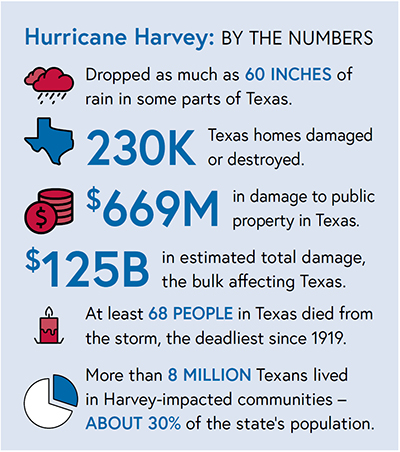 Harvey cost an estimated $100 million in damage and cleanup, mostly due to the 130 mph winds that whipped through the 528-square-mile county. One-third of the 12 million cubic yards of debris collected in Texas from Harvey came from Aransas County.
For days leading up to landfall, the storm was producing nothing more than a bad bout of rain and wind — a "ho-hum" storm as Rick McLester, the county's emergency manager, put it. It wasn't until 26 hours before landfall that county officials learned from the National Weather Service that the storm was going to be catastrophic — a Category 4 hurricane.
Residents were notified immediately via robocalls, press conferences and social media blasts. First responders drove up and down the streets, alerting people to leave. By the time the storm hit, 60% of residents had evacuated the county.
Several residents took shelter at nearby Live Oak Elementary School.
After ensuring as many residents as possible were safe, the next priority for county workers was to shore up county buildings with even more protection. Maintenance crews had already spent days sandbagging and boarding up more than two dozen buildings. Taking a cue from good storm preparation training, they also dispersed vehicles across the county to limit the risk of complete destruction.
For some essential county employees, the last step was preparing their own homes. Many of them, including McLester, did not have time to assess their own homes after the storm, relying on kind-hearted neighbors to tarp their roofs as they busied themselves to protect the rest of the county.
By the time the storm was brewing near shore, county leaders and their staffers shoved themselves into the Public Safety Center — built with cinderblock surrounding it — and waited.
"Water was coming in through the walls. Walls were breathing in the wind," said McLester, comparing the constant sound to a freight train.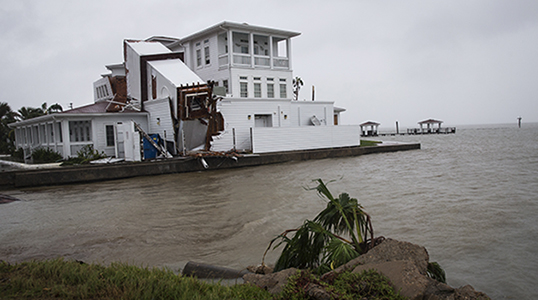 As the winds wailed outdoors, 911 dispatchers fielded numerous calls from residents who opted not to leave.
"I'll never forget. We walked in and dispatch is taking a call and put it on speaker," McLester said. "It was an elderly lady whose roof blew away, and a two-by-four slapped her in the face, and she's bleeding and crying."
The eye of the storm came a few hours later, and first responders made 40 rescues during the 45-minute respite from the storm. The scene was already one of devastation. Rescuers were dodging downed trees and electrical poles. A nearby hotel housing dozens of evacuees was falling apart. Radio towers were sheared off.
By that point, all communication in and out of the county was cut off.
And the storm raged on for hours longer.
"You always think you're going to pick up the phone, call 911, and somebody's coming. But the reality is when we do these mandatory evacuations, while I can't force you to leave your house, you've got to understand that we may not be here to help you," said Mills, the Aransas County sheriff.
In the days after the storm, law enforcement officers visited every residence in the county to look for survivors; two died during the storm but their deaths were not caused by the storm, Mills said.
A response team of state troopers and Texas Division of Emergency Management staff members arrived in Rockport to help coordinate recovery efforts. The electric utility was able to return power within 13 days. A group of gourmet chefs set up shop at the jail to cook 6,000 meals a day for anyone in need. Volunteers helped residents clear their property.
"Within a week, you couldn't drive down the main drag without seeing every parking lot filled with some family who drove in from some other place," McLester said.
Grant funding key to recovery
The fervor to help lasted only so long, and the county and other local government officials had to develop a plan to fund recovery.
Most of the damage to county buildings was caused by powerful wind. County-owned property damaged or destroyed included the courthouse, the aquarium, the road and bridge office, transfer station, tax office, mosquito control barn, weigh stations, the juvenile detention center, 18 sheriff's department patrol cars, and nine of the 12 airport hangars.
Much of the recovery funding has fallen on insurance (the county does not have property coverage through TAC Risk Management Pool), the county's coffers, and state and federal grants. Insurance has picked up about $32 million, the county's portion has been about $500,000, and grants make up the bulk of funding, according to County Auditor Jacky Cockerham.
After the storm, the county identified about $245 million in grants to help the county recover. The county has secured about $146 million of it. The money has paid or will pay for:
Debris removal.
Replacement of sheriff's department vehicle fleet.
Road and drainage projects.
A new county courthouse.
A parking lot, plaza and community building downtown.
Two emergency service radio towers.
Fiber optic cable to be buried to improve the county's communication infrastructure and resiliency.
A project to build a pass that allows fish and crabs to come in from the Gulf, helping the ecosystem and improving fishing tourism.
A workforce development center.
A performing arts center.
Chasing paper
County officials have had to scale back their goal of $245 million in total grants and expect another $35 million to $45 million.
John Strothman, a county employee who has been working tirelessly during the past five years to obtain grant funding, said the process can be mired in fine print such that if the county misses a small detail, they are denied the money. Also, people who are making decisions about grant recipients are constantly leaving for other jobs.
"You spend your time chasing paper," Strothman said.
Strothman has been trying to obtain a grant from the Federal Emergency Management Agency to harden the county's shorelines, which in some cases are just inches from roads and cause flooding with regular rainstorms. The grant would help pay for the roads to be raised and for a rock barrier that would help break waves before they reach the shoreline.
"Four years later, we haven't got those grants approved," Strothman said.
Each stream of funding requires keeping detailed records of money used for recovery, which was difficult to do in the immediate aftermath of the storm.
Strothman credits the County Auditor's Office for the successes they have seen in obtaining grants. The staff has made sure they are following the rules so that the money isn't clawed back.
The county's coffers were mostly spared — a blessing considering the county's property tax base was decimated in the aftermath of the storm. But the base recovered by the second year after the storm.
"Harvey destroyed … old buildings that had depreciated and had very little value. Now we have people building homes that are, you know, five times what the value was," Cockerham said. "We're well over what we ever were. We're probably 25% more than what it was."
The long haul
Although the county bustles with life, remnants of the storm — many elements of which are out of the county's control — still haunt corners of the area, including empty plots where businesses once stood, shells of wind-battered homes and buckled gutters clinging to the sides of buildings.
Five years later, some county departments are still waiting to rebuild.
The aquarium and structures at the transfer station still need to be rebuilt. The detention center's roof was finally replaced in the spring. The county also needs to make some smaller repairs related to gutters, electrical work and other roofs.
A winter storm a few months after Harvey, the pandemic and the 2021 ice storm have all affected recovery.
"You hear people say don't expect to be 100% recovered for five to seven years," said Rene Butler, director of maintenance. "That's true."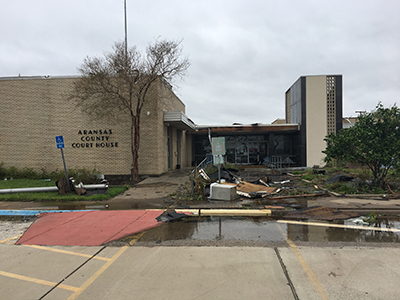 Securing funding for a new courthouse has also been a long-term vision just recently realized.
After the original courthouse was destroyed in the storm, the departments that were housed there have been operating out of a former Ace Hardware store in a strip mall. Offices are small and walls are thin.
The new courthouse will help anchor a governmental complex alongside the Rockport City Hall — an intentional design to help synergize county and city operations and better serve residents. County commissioners asked voters in 2020 to help fund the $23.6 million courthouse project, but the plan was rejected. The county is turning to tax notes to help make up its $13 million portion, which FEMA funding and insurance are not covering.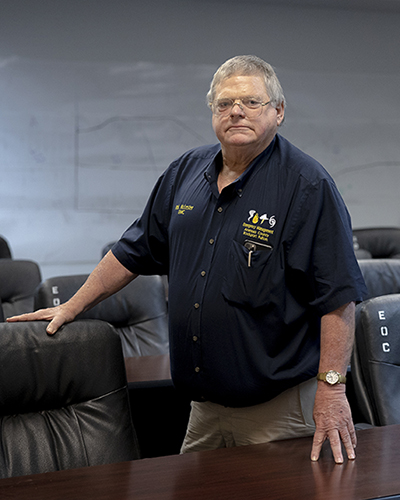 Part of the complex will include a community meeting space and parking lot that can also be used by the nearby performing arts center. The county is using grants to pay for the parking lot and meeting space.
Officials are aiming to complete construction on the courthouse in about two years.
"The old courthouse building was 65 years old. We were getting by with it, but it was not a functional building," Strothman said. "Every once in a while, a community has to spend money like this on a courthouse, and they're getting it for 40% less than if they had to pay out market value for it because of insurance and FEMA funding."
Another headache for the county is rebuilding its airport, which is an integral part of the region's economy. Because the airport lost many hangars and its aircraft count dropped, the county's designation was downgraded from a regional airport to a general aviation airport, which limits the grant opportunities that Airport Manager Mike Geer can target.
The airport is self-funded, so no local tax dollars go to support it. Fuel sales, land lease, hangar rental and grants sustain the airport.
The airport has been able to add back only one of the nine hangars that were lost because of delays with insurance, coupled with the pandemic and ice storms.
"It hasn't been enough to get us up over the hump that we need to be to get back to that regional status, which really accelerates our grants," Geer said.
Geer hopes that an additional hangar will be built by the end of the year, which can put the airport back to its regional status.
Affordability and workforce crisis
The storm has brought several learning lessons for Aransas County and a sense of renewal, as new housing and businesses have cropped up throughout the region.
But the storm exposed a need for a diversified economy, one that is not solely based on tourism, according to Mike Meek, head of the Aransas County Partnership Economic Development Corp.
"We're all wanting to have a quality sustainable community. And to do that, you've got to have diversity in your economy, you've got to have more commercial tax base, and there's ways to do it," Meek said.
The corporation, which includes strong input and financial backing from the county, would like to build up its marine-based industry, health care and quality of life to attract more corporations. A key part of the latter effort is to rebuild its school system, and student enrollment is not yet to pre-Harvey levels. Voters in May passed a $66 million bond package for the school district.
Another essential piece to long-term economic recovery is building a local workforce. The county recently secured a grant to turn an abandoned elementary school into a workforce development center where adults can learn trade skills, from carpentry and nursing, to learning to pilot a boat.
"We need to train people so they will stay here," Strothman said.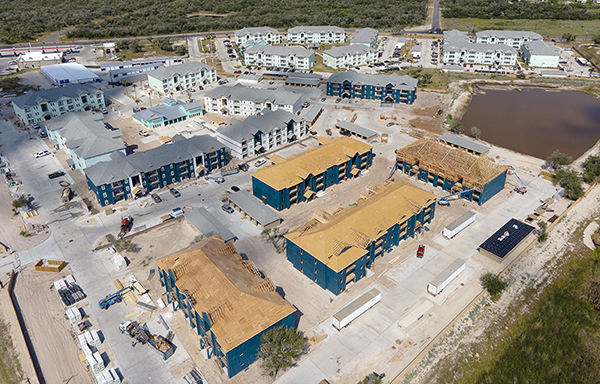 Affordable, multifamily housing is also too scarce to support a local workforce. Many of the dwellings in the county are second homes for retirees or for those in the short-term rental business.
Among the hardest hit by the hurricane were renters who were suddenly forced from their homes and had few options for public assistance. Many of them never returned, said Jennifer Heard, a county employee who served as a liaison to residents in the storm's aftermath.
For those who did have homes but didn't have homeowners insurance, obtaining federal assistance to rebuild has been sluggish — some are just now receiving help. Developers of affordable housing haven't been spared either.
"In fact, we have one that still is not rebuilt right now, that has gone through two different owners and changes of hands to where they've had to ask for more money," Heard said, adding that waiting times for affordable housing can be years.
Heard said that bringing in more jobs to the county can help people build more income, but to attract people, there needs to be housing where rent isn't $1,000-plus a month.
The county has provided tax incentives to support development of a new apartment complex, and phase two of that construction is underway.
Officials say that solving the affordability crisis can't be done overnight and that incorporating it into their long-term recovery post-Harvey and economic development can ensure affordability remains a focus.
"We've got the short-term rental issue eating up the inventory, and we have rising prices due to supply chain issues," Meek said. "It's a perfect storm to try to fix the affordable housing issue. I don't know of any community in this country that is not focused on affordable housing."
Still, the county continues its methodical progress, one partnership, one grant, and one bond initiative at a time.
"We can be grateful for what survived," Sheriff Mills said, "for the progress we've made going forward."