Blog | July 29, 2022
Data & Analysis
County News
In April, the U.S. Census Bureau released County Business Patterns 2020. This data set shows the number of establishments, the annual payroll and employment by business category at the county and state levels. The data is excellent but not perfect. For example, the bureau adds noise (think of this as variation or margins of error) to the data so that no information about specific organizations is revealed.
Even with caveats, this data can be a good starting point for counties interested in understanding drivers of the local economy and where there is room to diversify industry.
The 2020 data contains more than 1,900 industry categories for Texas, which can be overly specific for many if not most counties. (See the Background section below for more information on what the data does not cover.)
Luckily, the data is hierarchical and rolls up into 21 major categories, one of which is the overall total for all categories. In other words, adding up the amount for each of the other categories equals the amount for the total for all sectors. The data often follows this tendency in larger counties.
BACKGROUND

Due to the way definitions have changed over time, trying to determine trends or changes in each category can be difficult to calculate and even more difficult to explain. However, the bureau makes County Business Pattern data available online, including data for the many business subcategories not shown in this article.

For information on historical population trends by census, see our County Profiles (https://txcip.org/tac/census/CountyProfiles.php)

1. Click on the link to your county
2. Click on the 'History' link
Or....
1. Scroll to the bottom of each County Profile page
2. Click on the 'County Business Patterns' link to see a table, along with the noise flags, of business data for that county. The page includes a link to another webpage showing how the data for that county compares with the data for the state of Texas.

County business patterns excludes:

Crop and animal production.
Rail transportation.
Postal Service.
Pension, health, welfare, and vacation funds.
Trusts, estates, and agency accounts.
Office of notaries.
Private households.
Public administration.
And most establishments reporting government employees.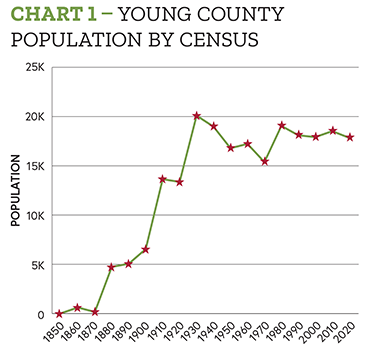 However, in smaller counties, there are categories in which few establishments operate or in which few people are employed, as shown for Young County in Table 1, which almost automatically means greater noise or missing data.
One potential reason for the lack of data in certain categories is lack of growth; the population of Young County followed the pattern shown in Chart 1. The Civil War decimated strong initial growth, but significant growth returned until the Great Depression.
However, since 1980, Young's population stayed in a relatively narrow range, reaching 17,867 in 2020, when more than a third of the population was employed by 563 establishments with an annual payroll of more than $242.5 million. Almost a third of the employees, 1,321, worked in the manufacturing industry, making $67.1 million annually in only 28 establishments.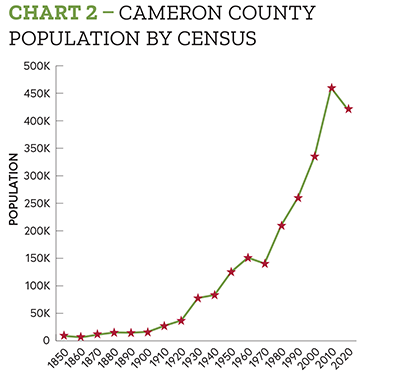 Closer to the other end of the population spectrum, Cameron County has been growing since 1970, as seen in Chart 2.
As shown in Table 2, the largest number of employees in the county is found in the health care and social assistance category, which accounts for more than a third of the total annual payroll and ties retail trade for the largest number of establishments.
Statewide data can provide context for county-level data, as well as show opportunities for growth. But it is the county-level data, which can be found on TAC's County Profiles webpages, that most of us want. However, high-level categories may not reveal sufficient information; many, if not most, county officials and businesspeople will want to dig further into the data to see what is happening at greater detail. Thus, county business patterns may be a great place to start looking, but they are just the start of the process.