Blog | July 29, 2022
Texas drought likely to continue
Health & Benefits News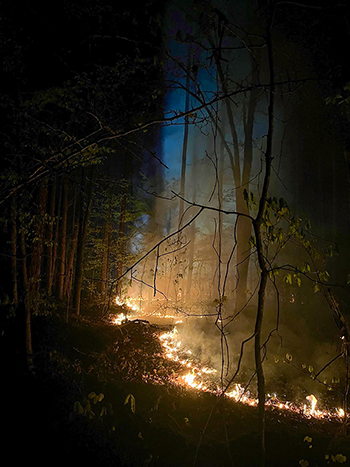 As we can all feel and endless statistics confirm, most of Texas is caught in a significant drought. During the spring, most regions got less than half of their normal rainfall, devastating crops and encouraging wildfires.
Reasons for the drought are complicated. One factor is the La Niña weather pattern, which happens when the Pacific Ocean undergoes significant cooling, resulting in changes to typical weather patterns. It usually heralds a drop in rainfall and higher temperatures in the southwestern U.S. This May was the second-hottest on record for Texas, and heat records continued to be broken in June and July across the state.
The high heat and lack of rain create favorable conditions for wildfires. This year, firefighters have responded to more than 5,000 that have burned more than half a million acres, according to the Texas A&M Forest Service. Some of the hardest hit counties are Eastland, Comanche, and Callahan, where the Eastland Complex fires burned more than 50,000 acres in March and April. In May, the Coconut Fire burned nearly 30,000 acres in Wilbarger County. As of mid-July, 209 counties were under burn bans.
Rusty Winn is an investigator for the Midland County Fire Marshal's Office in West Texas. The county is currently under a burn ban. Winn said this year's fire season has seen "quite a few" fires, but he notes that "it hasn't been as bad as back in 2011, when we had quite big fires."
Winn noted that because the ground is so dry due to drought, "any little thing can set off" a fire, including a train hitting its breaks and throwing sparks into the grass. And "potentially because of the West Texas wind, it turns into something a lot bigger," Winn said. He added that many fires start in roadways, as drivers toss out cigarettes or vehicles hauling trailers allow a chain to drag on the ground.
"It's hard to tell if global warming has had an effect on the drought," said State Climatologist John Nielsen-Gammon. He said global warming has increased precipitation in Texas, but precipitation has become erratic. Overall, temperatures have gone up about 2 degrees Fahrenheit, compared to the average temperature last century.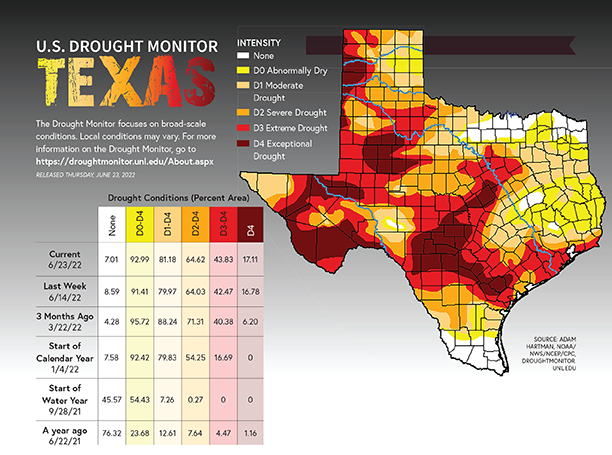 The current drought is severe in western and central Texas, but parts of eastern and northeastern Texas have received significant rainfall.
"We expect it to persist into the fall. … The best chance for the drought to end is in September-October," Nielsen-Gammon said, adding that Texas usually sees more rain during these months.
However, La Niña conditions are also expected in September and October, making the picture less clear. "There's a good possibility this will be a multiyear drought," Nielsen-Gammon said.
According to the federal government's Seasonal U.S. Drought Outlook report for June to September, the drought is expected to persist in the Panhandle, Central and West Texas, and drought is likely to develop in East Texas, too.
Across the state, lake levels are down significantly. Low levels can cause boating risks and even make boat ramps inaccessible, hurting the economies of counties that depend on water tourism.
So, how can counties prepare for drought? According to Nielsen-Gammon, "2011 is a pretty good benchmark for most places. The things that worked in 2011 will work today."
To see strategies created in response to the 2011 drought, read the 2016 regional water plans from the Texas Water Development Board (TWDB). They are available at the TWDB website at www.twdb.texas.gov/waterplanning/rwp/plans/2016/.
TIPS ON HOW TO

PREVENT FIRE RISKS

ON YOUR COUNTY PROPERTY:
Clean roofs and gutters of dead leaves, debris and pine needles, which can catch on fire. Reduce embers that can pass through vents and eaves by installing 1/8 inch metal mesh screening.
Check the tire pressure on your vehicles. Low tire pressure can cause more friction on the road, which can spark fires, especially on roads near dead grass.
Maintain lawn mowers, so they do not produce sparks when being used.
Communicate with power companies so firebreaks are properly maintained. Coordinate with the local fire authority to develop a prevention and response plan to wildfires.
TAC Risk Management Pool members participating in the workers' compensation and property programs can participate in a fire extinguisher simulator training.
For more information on how to prepare for and respond to wildfires, contact your Risk Control Consultant at www.county.org/County-Risk-Management-Map.
Written by: Rebecca Johnson