Blog | July 30, 2022
Centralized tech licensing benefits TAC and its members
Health & Benefits News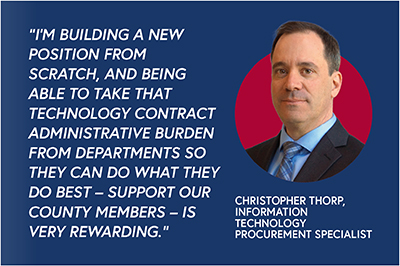 Christopher Thorp's job as Information Technology Procurement Specialist doesn't involve a lick of interaction with county members. And yet, everything he does helps the Texas Association of Counties (TAC) deliver unbelievable customer service to members.
Businesses' reliance on technology grows every day, and TAC is no exception. Last year, TAC created a new role to help centralize its technology contract administration, licensing, vendor management and inventory management. Thorp took on the challenge.
Previously, departments sometimes negotiated agreements to purchase their own specialized technology solutions. By moving to a centralized, enterprise approach, departments can spend more time directly serving customers. Meanwhile, TAC can be more efficient with its resources.
Thorp's entire first year in the new role was building a software licensing catalog of TAC's various subscriptions and licenses. In 2021, simply by leveraging an enterprise focus on software and licensing renewals, Thorp saved TAC about $94,000. He said, "Part of my role is simply asking our vendors, 'What else can you do for us?' and 'Is this the best value we can get?'"
Director of Operations Services Julie Rogers noted: "Chris' steadfast commitment to process improvement and customer service clearly benefits everyone — members and fellow employees alike. I am constantly amazed how Chris can keep track of all the software and hardware that TAC staff uses. It is a daunting task that he manages with a smile on his face and a wonderful attitude."
TAC maintains contracts with about 50 technology vendors and has about 200 licensing agreements, and Thorp now has visibility of every piece of software and licensing agreement that TAC has.
"It's incredibly satisfying," Thorp said. "I'm building a new position from scratch, and being able to take that technology contract administrative burden from departments so they can do what they do best – support our county members – is very rewarding."
Thorp joined TAC in 2018 and held a couple of IT positions before becoming the IT Procurement Specialist. Thorp has a Bachelor of Business Administration in management information systems, as well as Cisco Certified Network Associate certification and Microsoft Technology Associate certification.
Prior to joining TAC, Thorp was supporting another association in Washington, D.C. He said joining TAC was the perfect fit. "What I love about TAC is that the mission is crystal clear: It's about counties and what they need."
By this time next year, Thorp plans to have transitioned the technology inventory into a TAC-wide repository and documented new procedures for TAC's end-to-end procurement cycle.
In his spare time, Thorp enjoys traveling with his family, especially to locations where they can take part in a favorite pastime, snow skiing. He and his wife, Kara, have twin boys, Russell and William. William studies cybersecurity at The University of Texas at San Antonio. Russell attends The University of Texas at Austin and hopes to attend medical school.
Written by: Erica Macioge