Blog | July 29, 2022
Law enforcement shortage in Texas has reached crisis level, sheriffs say
Health & Benefits News
In nearly every county, the situation is the same: Sheriff's offices are struggling to keep deputies on the streets and jailers in their jails -- a crisis crisis in law enforcement that mirrors a trend nationwide.
This year in Polk County, north of Houston, Sheriff Byron Lyons lost three deputies in a week — one who went to work for the city police force and another to Walmart. In his 20 years with the Sheriff's Office, the current shortage is the worst it has had, he said.
"I know that me being shorthanded is not a problem exclusive for me," Lyons said. "There are agencies in the entire state and nation that are struggling trying to find officers. We are all suffering the same thing."
Sheriffs cite several reasons for losing deputies and jailers: low pay, long hours, dangers on the job, and most notably lately, the villainization of law enforcement. The last item was made worse worse by the killing of George Floyd, nationwide protests against police and calls to defund police departments.
"It has created a culture where law enforcement as a profession isn't very popular," said Thomas Kerss, a former Nacogdoches County sheriff who now works as a consultant for the Texas Association of Counties. "It's hard to attract a lot of people into an unpopular profession."
The pandemic added another layer of complexity, resulting in labor shortages in all professions. "It is starting to come back," Kerss said. "Some jobs faster than others."
"There are agencies in the entire state and nation that are struggling trying to find officers."
Byron Lyons, Polk County Sheriff
Lubbock County Sheriff Kelly Rowe, who is also president of the Sheriffs' Association of Texas, said he remembers a time when young people were excited to go into law enforcement, to become a beat cop, then possibly join SWAT or become a narcotics officer. Law enforcement was a tradition in families, he said, and for people getting out of the military. Rowe, himself, joined the police force after leaving the service. He said he couldn't figure out what he wanted to do. His dad told him to go on a ride-along with a friend who was a sheriff's deputy in Midland.
"It wasn't even that exciting of a night," he said. "But I was sold."
For many, the call to serve and protect outweighed the desire for higher pay. A deputy starting out often makes as low as $30,000 a year.
"This is not a job. It's a way of life," said Ector County Sheriff Mike Griffis. "You are going to miss holidays, birthdays, soccer games, Christmas. You have to convince yourself it's very rewarding in the end."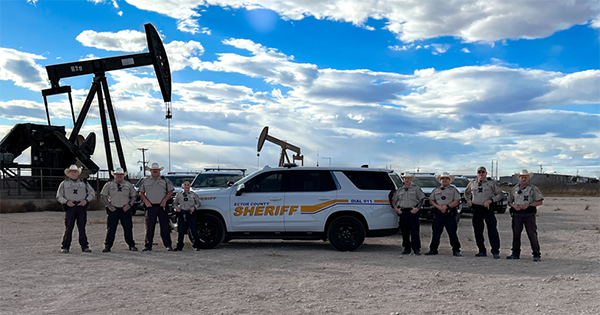 The problem is even more complicated in county jails, where detention officers make even less than sheriff's deputies for what Kerss said is often a thankless job. Jails are seeing an increase in violent offenders. Detention officers work long hours, are exposed to communicable diseases and have to address mental health concerns they are not trained to handle.
Today, half of inmates entering county jails have received mental health services prior to arriving, and about 30% of those need a significant level of care and medications to keep them stable, Rowe said. They stay in custody twice as long as other offenders because of the time it takes to prove them competent to stand trial. The majority would be better served by the state hospital system, Rowe said, but that is experiencing its own drastic shortages. Today, there are only 2,200 mental health beds in the state.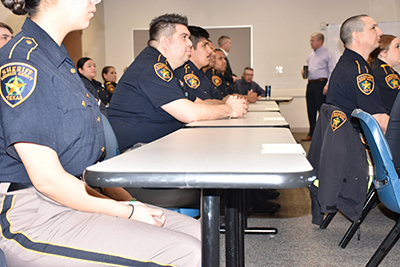 "More and more, over time, the role of the county jailer is not just to secure the jail but to try and monitor mental health concerns, people that are in crisis and really shouldn't be in jail, but jails are the only facilities that typically can't say no," Kerss said.
In Ector County in West Texas, whose population is 161,000, Griffis said his department is currently 71 jailers short. He has had to send many of his inmates to other county jails that have the beds and the staffing to take them in, which comes at a high expense. Or they have to pull people from patrol and courthouse security to take shifts, to ensure they have the required jailer-to-inmate ratio mandated by the Texas Commission on Jail Standards to stay open. Those decisions have a ripple effect, especially in a county that already has 18 deputy positions unfilled.
Shortages can have real and often tragic consequences: response times are slower, interactions with the public are poorer, and morale in offices is at an all-time low. Deputies respond to priority calls such as fights, shots fired and family violence, but the lesser property crimes take a back seat.
"It's disheartening to know we can't provide the service that I wish we could," Griffis said.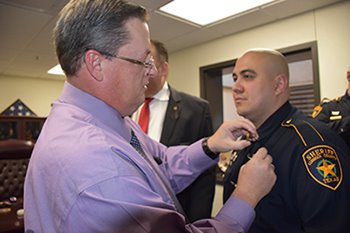 Ector County did recently approve a relocation bonus to encourage people from other counties to join the Sheriff's Office. Many counties are hamstrung in their ability to raise funds because of state legislation that prevents them from increasing property tax revenue more than 3.5%.
"About three, four years ago, we sat down to do a budget, and I told the court at that time, there will be a day you have to pay a peace officer more than you pay anyone in local government just to take the job, due to what was going on in America at that time," Griffis said. "Now it's even worse. I don't know that money would fix the problem, but it's going to get to the point that that's going to be the only draw to take the job."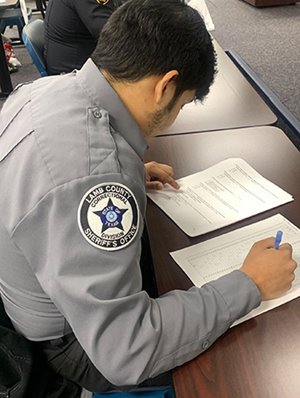 Since the problem is so layered, sheriffs across the state struggle to find a solution. Kerss said law enforcement reforms have to happen in tandem with reforms to the state hospital system so that jails are not full of people with mental health problems. And in addition to higher pay, Griffis encourages counties to pay for child care, because many in law enforcement have to work long hours. But Rowe argues that, most importantly, a major shift is needed in the way we think about law enforcement, to value it again as a profession. "That's got to be the first step," he said.