Blog | January 31, 2022
Comal County Sheriff saved colleague through living liver donation
Health & Benefits News
When Teresa Hendon needed a new liver, she found a donor — Comal County Sheriff Mark Reynolds — in her very own workplace.
"Whenever they say the people in law enforcement are the ones who are there to help, he truly is the epitome of that," said Hendon, executive assistant to Chief Deputy Jimmy Jones. "Without him, I don't know if I would have made it."
In her 20s, Hendon was diagnosed with a hereditary liver condition, ulcerative colitis, and learned that a secondary condition, primary sclerosing cholangitis, would eventually necessitate replacing her liver.
In 2015, 15 years after receiving her diagnosis, Hendon's doctors placed her on the liver transplant list. But her transplant urgency score was low, making it unlikely that Hendon, then a Comal County 911 operator, would receive a deceased donor's liver.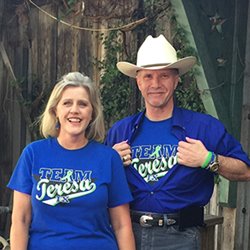 Hendon searched for a living donor by spreading the word in the local newspaper, on social media and through everyone she knew. Liver transplants from living donors are possible because the human liver regenerates and returns to its normal size after surgical removal of part of the organ.
Reynolds, then a captain over the Corrections Division, noticed that Hendon was not her usual vibrant self. He privately asked Hendon what was wrong. "She was very blunt and to the point and said she had to find a liver donor," said Reynolds, who eventually discovered he was a match. "She was placed on a list and would have to get sicker and move up the list, or she'd possibly pass away. I wasn't going to have that. So, I went home, did research, and I found the University Health Transplant Center."
With his wife's support, Reynolds began working with the staff at the center in San Antonio through about two months of testing. The medical team first contacted Reynolds with the surgery date, and he told Hendon the news by circling the June 2015 date on her calendar.
"It was a big ask and a big give," Hendon said, explaining that Reynolds used sick time to take off work for testing, surgery and recovery. "He has a scar for the rest of his life from it too."
Reynolds calls that scar, which extends from his breastbone to his belly button, his "friendship scar." The surgery went smoothly — he checked into the hospital on a Tuesday and went home that Friday, then spent the next nine weeks recovering.
Infections made Hendon's recovery harder, prolonging her return to the office.
The biggest challenge for Reynolds was walking past Hendon's empty desk until she surprised him with her return.
Now both are working in Comal County's administrative office, and Hendon and Reynolds see each other every day.
Hendon visits the doctor for testing every six months and takes maintenance medication to prevent her body from rejecting her transplanted liver. But she is in good health and expects to have her liver for the rest of her life, and both she and Reynolds encourage others to consider serving as a donor.
"It was a special opportunity," Reynolds said. "If you can save someone's life, take every opportunity to do that."