Blog | January 31, 2022
Courtney Govea stays technology-sharp
Health & Benefits News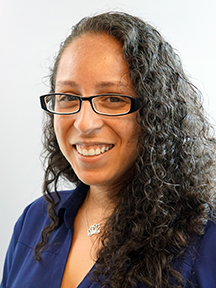 Courtney Govea is a fixer. She is TAC's End User Support Administrator, and the bulk of her job is responding to requests for technology help from employees at the Texas Association of Counties.
"That's the best feeling," Govea says, "being able to find a solution to a problem someone is having. I love that aspect of my job."
Every TAC employee relies on technology to deliver services to counties, and Govea's role is essential in keeping employees connected and productive. More routine requests include helping employees access the network, connect to printers, reset passwords, install software and hardware, and troubleshoot application errors. She completes about 100 help desk tickets each month.
Govea also works with new employees to help them get their systems running and gain access to the software and tools they will need to effectively do their jobs.
Every day and every call are different though, and flexibility and curiosity have allowed Govea to provide amazing customer service, no matter what the day holds.
"Courtney always goes above and beyond to serve employees," Director of Technology and Membership Services Lisa Garcia says. "Her patience and commitment to continuous improvement have ensured employees have the needed tools to support counties."
Govea has vigorously sought training to become familiar with technology solutions since changing careers a few years ago. She has a Bachelor of Fine Arts from Texas State University. She was a full-time graphic designer for about four years before changing careers to information technology after encouragement from her stepdad, who is a network engineer.
She took courses to help her make that transition and landed a job doing help desk support at Home Depot, a job she held for a few years before joining TAC in 2019. Continuous learning has enabled Govea to thrive in a field that changes rapidly. She is a Cisco certified network associate (CCNA).
"When I first started in IT, nearly every call was panic-inducing," she recalls. "But with each successfully closed-out ticket, my mental library of solutions grew."
Govea was instrumental in the completion of a network upgrade project that included physically re-cabling network closets on each floor in the TAC building. She was also key in helping employees make the abrupt transition to remote work at the start of the pandemic.
Govea has been working on a plan that may reduce hold times for people when they call TAC's main phone number. "When a member calls TAC, they always reach a real human, but they may have to be on hold first," she says. She's planning for some changes that would allow other TAC employees to easily log in to the phone system when additional coverage is needed.
Next on her career journey? Learning about cloud technology. "IT is a very exciting field; there's just so much to learn."
Written by: Erica Macioge