Blog | January 31, 2022
State law requires new voting machines
Health & Benefits News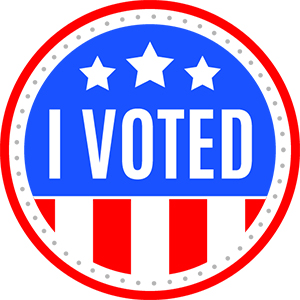 Voters in Brazos County are used to casting their ballot on a screen — they've been using an electronic-only voting system for 20 years. So during the recent November election, when the polling-place machines began spitting out paper printouts confirming votes cast, some folks were a bit mystified.
"I had a gentleman contact me the day after the election and say, 'I got home with this and realized it was a ballot,'" recalls Brazos County Elections Administrator Trudy Hancock.
Fortunately, no races in Brazos County that day were lost by one vote.
Like roughly a third of all counties — 91 in all, according to the Texas Secretary of State's office — Brazos County was required to upgrade voting equipment in the wake of a new state law requiring voter-verifiable paper ballots. Senate Bill 598, written by Sen. Lois Kolkhorst (R-Brenham) and passed last summer with bipartisan support, gives counties until November 2026 to ensure that all voting machines produce a "paper audit trail" in the form of a printed tally that voters can handle and visually examine before inserting it in the ballot box.
"It's been a bit of a learning curve," said Hancock of the bill's effect on her county's elections procedures. Training was required for all election judges and workers, and someone at each polling location was tasked with keeping an eye out for "fleeing ballots" — the people who, like Hancock's confused voter, mistakenly thought that the new printout was simply a receipt instead of their actual ballot.
Brazos County had just purchased a new all-electronic voting system in 2018, thinking it would last for a while. The county had to pay $1.3 million for Hart InterCivic to retrofit its machines to include a small printer that would record a voter's preferences in a printout that voters can examine before feeding the ballot into a scanner.
The good news for Brazos and other counties in a similar situation: The law provides reimbursement funds for all new voting equipment or upgrades purchased by counties up until Nov. 8. After that date, any counties converting in the remaining four-year window are eligible for only a 50% reimbursement.
"This is the national trend, that voters want to see something that shows their vote has been recorded," said Heather Hawthorne, elections administrator for Chambers County, which is aiming to complete its upgrade by November.
The new bill also requires the gradual implementation of a system of regular risk-limiting audits — overseen by the Secretary of State — which would focus on a sampling of races within 24 hours after all ballots have been counted in a statewide election.
"I consider this just one of the many changes in voting procedures that have happened in my career," said Hawthorne, who has run the county's elections for 15 years. "We'll all adapt."
As of early December 2021, 50 counties were still facing the need for an equipment upgrade, according to Christina Adkins, legal director of the Secretary of State's Elections Division.
Since 2019, two states — Virginia and Texas — have enacted legislation requiring voter-verifiable ballots, bringing the total to 19 states.
The voting machine changes are among a slate of legislation passed by the Legislature in 2021 to shore up election processes, even though there is no evidence of widespread voter fraud in Texas. Senate Bill 1, which passed during the special legislative session that ended Sept. 2, makes sweeping changes, including expanding rules for mail-in ballots and creating state jail felonies for local election officials who violate certain mail-in ballot procedures.
Written by: Clayton Stromberger