Blog | January 31, 2022
TAC HEBP launches Readiness for Duty program
Health & Benefits News
Poor health is a contributing factor to lower life expectancy for law enforcement personnel, and it can also lead to increased costs for health coverage.
"The average life expectancy for a (male) police offer is just 57 to 59 years old," said Terry Pickering, a TAC Risk Management Services Law Enforcement Consultant who was a liaison during the program's launch before retiring Dec. 31. "A lot of this can be (attributed) to the stresses of the job and how it affects our cardiovascular system."
To combat these issues, the Texas Association of Counties' Health and Employee Benefits Pool (TAC HEBP) launched a program called Readiness for Duty in the fall of 2021. The program is designed to improve the health, fitness and longevity of law enforcement. The Texas Department of Public Safety has offered assistance to participating counties by leading informational trainings on the program and on how to use the equipment.
One of the key components is a Concept 2 rowing machine. "The rower is used because it replicates similar traits of when commissioned officers engage in physical activity on the job," said DPS Fitness Wellness Unit Program Supervisor Michael Harper. "The same functionality of what is seen in the field when using physical force is also demonstrated on the rower: use of both the upper and lower body, increased heart rate, anaerobic activity and increased intra-abdominal pressure due to Valsalva," a maneuver that occurs when air is blown against closed airways.
Harper said the rower is also beneficial because it is a low impact tool that leads to fewer injuries. It can also be used indoors in a short period of time.
"A significant component in officer safety is injury potential while doing the job. As the job requires fitness, maintenance of fitness levels can reduce injury potential," Harper said.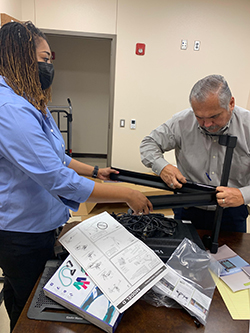 Improved health plays a vital role in the ability of officers to do their jobs safely. "This enhances not only the officer's safety, but that of their partners, colleagues and other agencies. This also enhances the ability for officers to best provide for the community they serve and protect," Harper said.
Healthy and fit officers may be equipped to resolve high-intensity situations without using deadly force.
"A bigger issue in this day and age is the liability aspect," said Pickering, a former Bastrop County Sheriff. "So often, officers have to resort to using deadly force in a situation where if they were more physically fit, they wouldn't need to resort to such measures."
The benefits of improved officer health also include reduced costs to counties.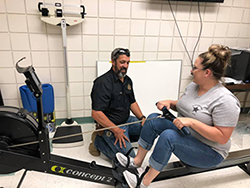 "When I was in Bastrop County, I observed reductions in workers' compensation claims and overall health insurance costs. Bastrop County saw a reduction in our premiums to the Pool," Pickering said. "We weren't getting as sick as often, and we could purchase smaller uniforms. There were huge benefits to the county and everyone."
The program is optional for counties, but in the pilot year, seven counties are trying it. County sheriffs and constables interested in the Readiness for Duty program should contact their TAC HEBP wellness consultant.
"Counties will ask what they can do to keep their (Pool) rates from going up, and we say take advantage of the programs we offer," said TAC Wellness Consultant Ashley Cureton. "With less health problems, it will decrease the number of medical conditions a person has. This program is in place to improve officers' quality of life and those in their communities."
Have a Story?
Do you have a story to shareabout a time TAC has affected your county, benefited you as an elected official or served your employees? We'd like to hear it! Your story may be used to create videos that will be shared on social media, at conferences and on our website. Please email Jennifer Kolbasinski at jenniferk@county.org if you have a submission or have questions.
Written by: Melissa Maluski