Blog | January 31, 2022
Texas county fairs are back and bigger than ever
Health & Benefits News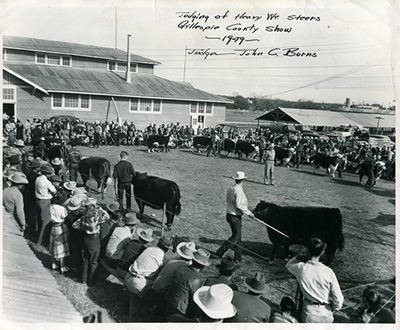 Blue ribbons, funnel cakes and mutton busting are back in a big way.
Like so many events, county fairs were canceled during the first year of the COVID-19 pandemic, but almost all of the state's regional fairs and festivals have returned, said Chris Shivers, executive director of the Texas Association of Fairs & Events, and most of them are bigger than ever.
For more than a century, county fair in Texas have hosted livestock shows, rodeos, dances, parades, pageants and pie contests, often as a means to build camaraderie among neighbors, to educate, and to celebrate the culture of their distinct communities. Although often run by nonprofit organizations, county fairs are typically held on county-owned property, which means that although counties don't usually benefit directly from fair revenue, the fairgrounds might host events throughout the year that could generate extra income for the area.
Fair Fact:
Many county fairs didn't take place during World War II. In Brazoria County, the fairgrounds were leased to the U.S. government as a site for a U.S. Army Signal Corps radar unit and, later, a prisoner-of-war camp.
"The way the county works best is when everything is quiet and going pretty well," said Donnie Schuch, a longtime Gillespie County commissioner and fourth generation native. "The county fair is where we show that we work hard and we play hard and that we appreciate the heritage that our forefathers left us."
Fredericksburg hosts the state's longest-running county fair each August. Started in 1881, the Gillespie County Fair first brought residents together at Fort Martin Scott, now a historic site, for horse racing and for the displaying of prize farm animals.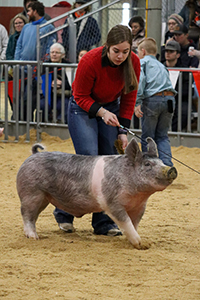 Last summer, the 133rd fair took place, with sights, sounds and flavors that fairgoers have come to love: goat roping, antique tractor pulls, pari-mutuel horse racing and sausage on a stick.
"We think about fairs being fried this and fried that, but for a long time, every county in the state would have a fair," Shivers said, adding that the events were primarily used to promote local agriculture and livestock, and emphasized youth education.
One of the state's largest county fairs, the Brazoria County Fair dates to 1910, when civic leaders wanted to create an annual event to educate farmers and homemakers while giving them an opportunity to show off what they had been toiling away on for the past 12 months.
These days, about 250,000 people attend the 10-day Brazoria County Fair each October and stroll through the 120-acre fairground.
Unlike festivals, fairs almost always include a livestock show and competitive events, where neighbors face off for the best quilt, cake, photograph or jar of peach jelly.
Fairs have a little bit of everything for both insiders and outsiders, said Kay Wolf, executive director of the Texas Festivals and Events Association.
"People are craving entertainment and getting together. It may not be family, but it's a different kind of family," she said. "It's friends, people who go to events to socialize, to be with friends, to make new friends, to see new things. That's what fairs have always been about."
Schuch said the fair is the county's annual celebration of heritage and community spirit.
"Without the volunteers, the fair wouldn't exist, and that gives folks a sense of community. Protecting our heritage is a big part of it. The fair gets the youth involved, and it gets local folks to come together and that might be the only time they see each other," he said.
Although festivals have become the dominant event in cities, more than 100 Texas counties continue the long fair tradition thanks to the continued interest in livestock and youth education.
At the 88-year-old Fort Bend County Fair, youths receive 40 scholarships each year by competing in various livestock and art events.
County fairs contribute about $70 million per year to the youths and families who participate, said Billy Zanolini, an assistant professor and extension specialist at Texas A&M University.
"A steer might only have a market value of $1,200, but at a county fair, investors will pay a premium of $6,000 or $10,000, knowing that it's 500 to 600 percent over what the animal is worth, just because they want to support these youth," said Zanolini, who is also a member of Texas Youth Livestock & Agriculture, which supports students, families and agricultural science teachers who participate in projects to raise steers, rabbits, goats and other livestock.
Austin County, west of Houston, brought in a record-breaking $2.5 million for youth education programs at its fair and show last year.
Zanolini, who grew up showing livestock in Sonoma County, California, said this level of support is unprecedented outside Texas.
"These community members see the value in this and they invest over and over again," he said.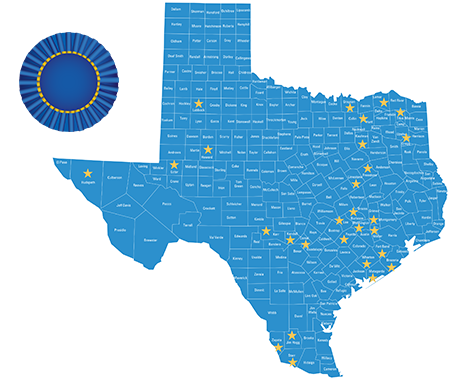 Some Texas county fairs to visit:
The Matagorda County Fair will kick off the 2022 season, followed by Starr, Limestone, Zapata and Jim Hogg counties in March. Other fairs happening this year include:
Wharton and Kaufman counties in April.
Lee County in May.
Grimes, Freestone and Hunt counties in June.
Howard, Kendall, Washington, Burleson, Hudspeth, Waller, Fayette, Gregg, Titus, Comal and Fort Bend counties, as well as Red River Valley (Lamar County), Permian Basin (Ector County) and South Plains (Lubbock County) fairs, in September.
Brazoria, Grayson and Kerr counties in October.
To find more fairs in your area, visit www.texasfairs.com.
Written by: Addie Broyles