Blog | January 31, 2022
Three-Legged Willie
Health & Benefits News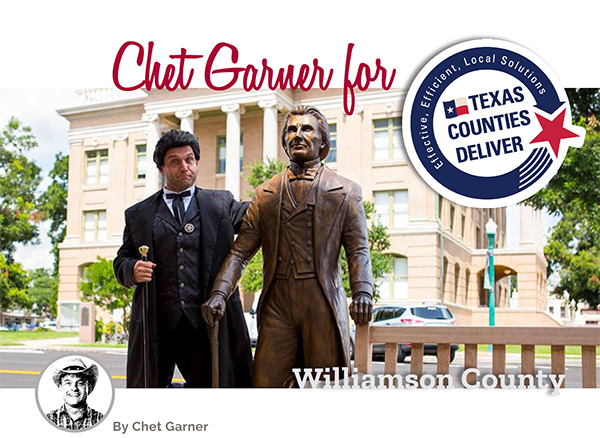 When you think about Texas history, a few prominent names come to mind — Houston, Crockett, Travis, Bowie. And if you're a Texas history nerd, then you might know a few more — Milam, Seguin, Navarro, etc. Very few, if any, could name all 254 of the historical figures or attributes that are forever immortalized as the names of our Texas counties. As a proud resident of Williamson County, I took it upon myself to learn about our namesake Robert McAlpin Williamson, aka Three-Legged Willie. It turns out he has even more history than legs.
Williamson County, just north of our capital city and despite all its efforts to remain autonomous, is now part of the exploding Austin metroplex. While its neighborhoods and highways may blend with nearby Travis County, its history is distinct and includes the Texas legend after which it was named.
Yes, Three-Legged Willie had three legs. Not by birth, but by choice. As a teenager in Georgia, young Robert became ill with "white swelling," later identified as tubular arthritis. It paralyzed his right leg below the knee, and rather than amputate it, he chose to rest his knee on a wooden leg with his real leg sticking out behind it. This earned him his timeless nickname.
Robert never let his physical impairments limit his outcome. He studied hard, became a lawyer at 19 and eventually migrated to Texas to become part of Stephen F. Austin's colony. Despite his disability, he was a very skilled horseman and marksman. To add even more tall-tale flare to his reputation, he often wore a coonskin hat with nine tails attached (take that Davy Crockett). On April 21, 1836, he fought in the Battle of San Jacinto as a member of William H. Smith's cavalry company.
Even though he was highly accomplished, Williamson's reputation was only growing. He became a Texas Ranger and was elected to the newly founded Texas Supreme Court. In that role, he could be found riding across Texas and holding court beneath trees and in shacks. One legend says that in a particularly rough part of Texas run by competing vigilante groups, the citizens declared that the court could not convene. Williamson asked on what grounds and a man plunged a Bowie knife into his table and said, "This is the law that governs here." The quick-witted Williamson drew his gun, sat it next to the knife and declared, "If this is your law, this is the constitution that overrules it." The court convened.
It took some serious grit to survive in Texas during those days, and Robert Williamson had more than enough. I paid my respects to this great Texan by visiting his statue outside the Williamson Museum and in front of the Williamson County Courthouse in Georgetown. We should all be proud to have him in our collective past. It made me think of what legends and characters might be hiding under the other 253 county names.
Texas Counties Delivers
by Chet Garner
Read about Texas counties' rich history, culture and service to their communities in each issue of County magazine. Watch Chet on PBS' "The Daytripper" and follow him on Twitter and Instagram @ChetTripper. He can also be found on YouTube and Facebook @thedaytrippertv.