Blog | January 31, 2022
Travis County: Work from home saves money, boosts morale
Health & Benefits News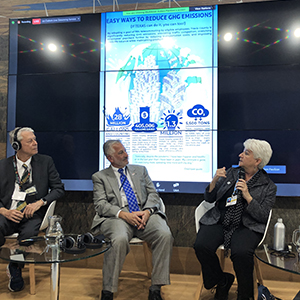 Travis County said it saved nearly $1.3 million over the course of the pandemic's first year by having the bulk of its employees work from home, and through other sustainability efforts.
The savings, as well as massive reductions in carbon dioxide emissions, have led county commissioners to implement a lofty goal of having 75% of Travis County's eligible employees work from home on an ongoing basis. This plan could lead to even more cost savings by cutting the amount of working space the county needs to maintain for its employees, according to county officials. The bulk of the $1.3 million in savings came from a reduction in water and energy costs.
Commissioner Brigid Shea, a vocal advocate of the county's plan, shared the results of the county's efforts with worldwide leaders at the Glasgow Climate Summit in the United Kingdom during November.
"This is something where governments can save money on their utilities. They can improve employee morale. And they can measurably and meaningfully reduce their greenhouse gas emissions," Shea told County magazine. "My point to folks in Glasgow was we've identified a pretty easy way to reduce greenhouse gas emissions, and if Texas can do it, you can too."
In 2020, Travis County employees reduced their greenhouse emissions by 28% — equivalent to removing 1,200 cars from the roads for the year — by no longer commuting to work during the spread of COVID-19. Employee commutes make up a fifth of the total emissions by the county and were a drain on morale in traffic-clogged Austin.
Employees also reported increased productivity because there were fewer distractions at home in some cases, and many were able to work flexible hours.
"Teleworking gives you more of an opportunity to just relax. I know that when I was in the office, I was running from meeting to meeting and I just felt so harried," said Travis County Auditor Patti Smith.
The effort forced departments to become more efficient in how they work, also contributing to increased productivity.
"Teleworking makes you look at processes and look for areas that you can improve," Smith said.
Because of the nature of their positions, about half of the county's 5,000 employees are eligible to work from home. The exceptions include first responders, jail staff, and road and bridge staff. Shea emphasized that county officials would never force anyone to work from home if they did not want to.
The county is still developing a plan on how to achieve the 75% work-from-home goal, but according to a recent study by consulting firm Deloitte, the county could save even more money in the long term.
Governmental bodies in Tennessee and Massachusetts have been able to eliminate building space, aim to reinvest savings in the workforce and are meeting priorities to improve the environment by having more employees work remotely.
Deloitte estimates that Travis County could reduce its administrative space by as much as 83%, or more than 1 million square feet. About 40% of the county's real estate is made up of administrative space.
The firm estimates the county can reduce its overall county emissions by 50% each year, equivalent to removing 2,216 cars annually from the road.
Over the past several years, the county has worked hard to improve its sustainability efforts, including reducing its paper consumption, purchasing more environmentally friendly products and recycling. Another success story from 2020 involved the Travis County Sheriff's Office, which recycled 8,500 pounds of plastic trays instead of throwing them into a landfill.
"I'm just really proud of Travis County," Shea said. "Our leadership and employees have all really stepped up and enthusiastically participated in creating what I believe is a model program that we can share with others that will help save money, make employees happier, increase productivity and help save the planet."