News Article | May 02, 2022
How to prepare for another busy hurricane season in 2022
Risk Management News
Risk Management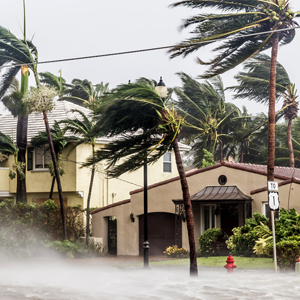 On the heels of an active hurricane season in 2021, this year's storm activity is expected to be almost as busy.
Researchers with Colorado State University predict 19 named hurricanes and tropical storms in 2022, two fewer than the number that developed last year. Last year's number resulted in the third-most busiest hurricane season, according to a report from USA Today.
Of the 19 storms expected this year, four of them are predicted to be major hurricanes, those that are categories 3, 4 or 5. The probability of a major hurricane occurring on the Gulf Coast, from the Florida Panhandle to Brownsville, is 46%, compared to the average probability of 30% documented in the past century.
The cause of the busy 2022 season is the continuation of La Niña conditions, which also caused tumultuous tornado activity in the spring.
"Coastal residents are reminded that it only takes one hurricane making landfall to make it an active season for them, and they need to prepare the same for every season, regardless of how much activity is predicted," according to researchers.
To help counties weather any storm, from hail to flooding, TAC RMP offers the following tips.
Before a storm:
Designate people to coordinate response and their location.
Ensure that contact numbers for the TAC RMP Claims Department are easily accessible, as well as those for emergency response companies, county employees, contractors and other key contacts.
Verify whether essential documents are backed up or stored in multiple locations. Understand the county's coverage and deductible.
Obtain appraisals of properties or a list of all buildings and locations; prepare an inventory or photos of each location's contents or business personal property; have a list of emergency response companies and contractors, and whether they have been vetted; prepare emergency supplies; prepare forms to track expenses such as after-hour or overtime labor.
Create a catastrophe preparedness and response plan.
Carefully consider the type of roof to install on a new building or when replacing an old roof. Better hail-rated roofing systems could be close to the same cost as other systems. Properly maintain roofs.
Store vehicles and equipment under cover when possible.
During and after a storm:
Deploy a trained initial response team to do inspections.
Contact TAC RMP, emergency response companies or contractors.
Determine which buildings need generators or supplies to respond to water damage or security.
Secure and inventory property that has not been damaged.
Follow property procurement and bid law practices.
Designate people to coordinate repairs and to track payments for covered damages; ensure the person understands the claim process.
Additional resources:
Contact us:
Contact your Risk Control Consultant to help you prepare and respond to a natural disaster. If you are a member of the TAC Risk Management Pool (RMP), contact the 24/7 Claims Hotline at (855) 47CLAIM or (855) 472-5246 to file a claim.