News Article | May 24, 2023
Prepare for a slower but more unpredictable 2023 hurricane season
Risk Management News
Risk Management
Follow these tips to prepare.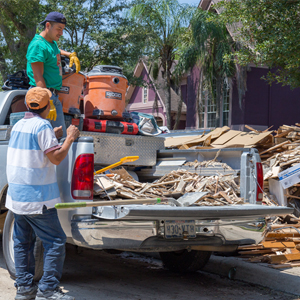 Good news for Texas after what has seemed like a flurry of natural disasters this year so far. 2023's hurricane season, which runs June 1 to Nov. 30, is expected to be slower than normal.
As the weather pattern known as La Niña makes way for its more stabling brother El Niño, the resulting winds should help tear apart hurricanes, according to Colorado State University's hurricane forecast. Forecasters are predicting 13 named storms, six of which are expected to become hurricanes and two of them to reach major-hurricane strength.
However, forecasters also noted even with a robust El Niño, the unusually warm waters in the Atlantic could make this hurricane season more unpredictable than normal.
And that means counties should do everything they can to prepare. Even one bad storm could have devastating effects, according to the Texas Association of County's in-house risk management experts.
"The main thing is to have a plan in place that is reviewed regularly," said Brett Anderson, TAC Risk Management Service's Property Program Supervisor. "The better prepared you are, the quicker the recovery will be."
Anderson said an important part of the plan is to outline internal stakeholders and their responses to an event, as well as strategic external stakeholders such as an emergency service company for a hurricane or a cybersecurity coach if an information technology breach occurs. Cyber criminals can take advantage of counties during their most vulnerable states, like after a natural disaster, to obtain sensitive information.
"Having the right team in place is very important," Anderson said.
Some common types of damage that counties sustain during hurricanes and tropical storms are to roofs, trees, and vehicle and building windows. Debris or trees can also land on equipment, buildings or vehicles. Rain and floodwaters can enter properties from damaged roofs or windows and through walls and doors.
TAC's Risk Control Consultants are available upon request to do safety inspections any time of the year, with special emphasis on preparing for any natural event. Risk Management and Law Enforcement consultants can review operations or schedules of equipment, buildings and automobiles to make sure proper coverage is in place before an event.
During an event, TAC's Risk Management Services can help direct a county to emergency vendors if buildings sustain damage, or power and communication are knocked out.
After an event, TAC's Risk Management Services department will dispatch a team to the county to assess damage and connect the county to temporary storage, buildings, power and roof repairs, among other needs.
"Our consultants also try to come out after a severe event like a hurricane as soon as safe passage allows with some extra water, snacks or personal protective equipment for impacted counties," Anderson said.
Plans should also include how to protect and support employees before, during and after a storm.
For more information, please view these resources:
Contact us:
Contact your Risk Control Consultant to help you prepare and respond to a natural disaster. If you are a member of the TAC Risk Management Pool (RMP), contact the 24/7 Claims Hotline at (855) 47CLAIM or (855) 472-5246 to file a claim.