News Article | April 22, 2022
EAP Benefit Spotlight: HelpNet
Coordinators | Health & Benefits News
Health & Employee Benefits | Health & Wellness Support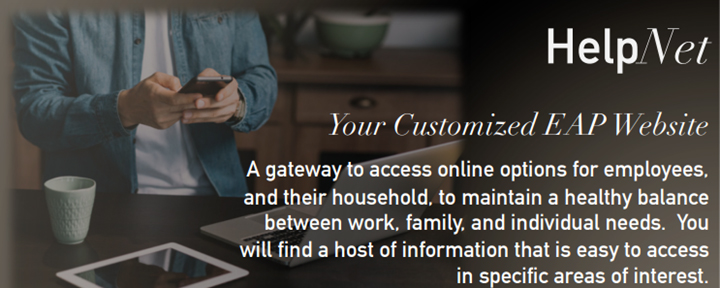 Your Employee Assistance Program (EAP) offers online resources to assist you in navigating the many paths your life takes you. HelpNet is your gateway to access information and resources to maintain a healthy balance between work, family and individual needs. You will find a host of information that is easy to access in specific areas of interest.
Check out the highlights below:
Use the Search Box to locate what's available by topic, keyword or key phrase
Access e-learning training by choosing the training option
View archived webinars on a variety of topics that come up day-to-day
Find legal and financial forms, documents, calculators and spreadsheets to assist with planning for life events
Build your resilience with the Resilience Journey - this engaging, interactive program will take you on an enlightening journey that will open your eyes to your life's purpose while teaching you about the five core components of resilience
General and Health Risk Assessments
Recipes
As a reminder, the EAP powered by Alliance Work Partners is available to all fully pooled TAC Health and Employee Benefits Pool members and participating ASO members. The EAP is available to assist employees and members of their households who may be experiencing personal life problems, such as marital problems, legal or financial issues, stress, emotional problems, family problems and substance abuse struggles.
All services provided by the EAP are free of charge and confidential.
A toll-free call to (800) 343-3822 starts the process. The EAP's call center is staffed 24 hours a day, seven days a week by professional counselors. Face-to-face counselors also are widely accessible.
Go to www.awpnow.com to create a customized account. Select "Access Your Benefits." Use registration code: AWP-TACHEBP-4661.
Healthy County Employee Assistance Program powered by Alliance Work Partners
Access all benefits by calling (800) 343-3822.
To reach TDD, call (800) 448-1823.
To reach the EAP teen line, call (800) 334-TEEN (8336).
Online: www.awpnow.com | Registration code: AWP-TACHEBP-4661