News Article | April 22, 2022
Feeling Stressed? Omada Can Help with Tips on How to Destress in Five Minutes or Less
Coordinators | Health & Benefits News
Health & Wellness Support | Health & Employee Benefits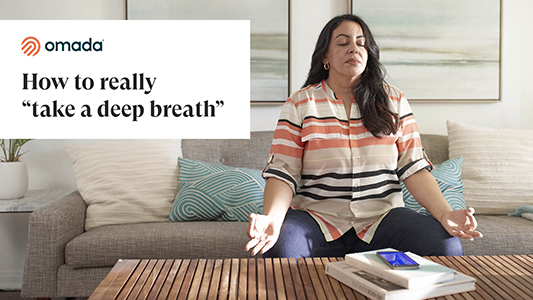 Your Omada benefit can help you learn ways to reduce your daily stress and improve your health. The best part is you're already covered by the TAC HEBP!
Here's a few tips to help you destress in five minutes or less:
Step 1:
Relax your body. Find somewhere to sit or lie down comfortably.
Step 2:
Close your eyes and inhale slowly through your nose. Feel your breath as it flows down and causes your belly to expand.
Step 3:
At the end of your inhale, pause for a few seconds then exhale fully through your mouth.
Step 4:
It's all about focus. Pay close attention to your breath as it goes in and out of your body.
Step 5:
Your attention will wander – that's fine – just refocus on your breathing.
Get ongoing support for your health, head-to-toe.
Omada provides everything you need to experience better health, both physically and mentally. Get one-on-one support from a dedicated health coach, personalized guidance, and mindfulness techniques to calm your mind.
Omada® is a personalized lifestyle-change program that inspires healthy habits you can live with for the long term. It combines the behavior-change science and unwavering support you'll need to lose weight, keep it off and reduce your risk for Type 2 diabetes or heart disease.
The program includes:
Wireless smart scale to monitor your progress.
Professional health coach to keep you on track.
Interactive program that adapts to you.
Weekly online lessons to educate and inspire.
Small group of participants for real-time support.
Take a one-minute risk screener to see whether you're eligible: omadahealth.com/healthycounty.
The Omada program is available to all fully pooled groups and participating ASO groups. Participating ASO groups include Brazos and Comal counties.
(*Source: https://www.cdc.gov/diabetes/basics/prediabetes.html)