News Article | April 22, 2022
Join Our April Facebook Contest for a Chance to Win Prizes!
Coordinators | Health & Benefits News
Health & Employee Benefits | Health & Wellness Support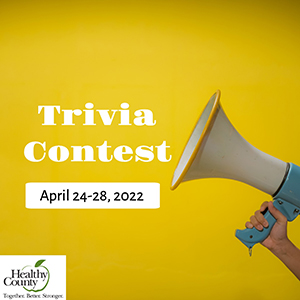 Are you following the TAC HEBP Facebook page? You should be! From April 24-28, we will be hosting a week-long trivia contest on the TAC HEBP Facebook page.
Every day, we will post a video at noon asking trivia questions, and you will have until 8 a.m. the next day to respond correctly. All the correct responses received by the 8 a.m. deadline will be entered into prize drawings. Prizes will be awarded to daily contest winners, and a grand-prize drawing will be held at the end of the week for all to enter. Some of the prizes include a Healthy County jacket, Sonic Boom lunch bag, yoga mats and more! Review the complete contest guidelines here. Follow the TAC HEBP Facebook Page at @TACHealthyCounty.