News Article | August 27, 2022
Get a Fresh Start on Your Weight-Loss Goals
Coordinators | Health & Benefits News
Health & Wellness Support | Health & Employee Benefits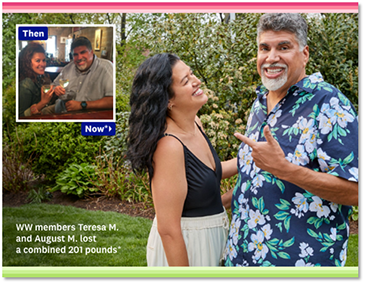 Now is the perfect time to take advantage of your wellness program! Refocus on your health with support from our partner, WeightWatchers. Unlock an individualized weight-loss plan that's backed by science, expert coaches and a community you can lean on.
WeightWatchers connects you with resources to help you prioritize and improve your well-being: Discover a food plan that's based on what you enjoy, 12,000-plus recipes, on-demand workouts, meditations, sleep tools and more, all in the WW app.
Inspo alert! Teresa M. and August M. lost a combined 201 pounds with WW and built lifelong habits, all while enjoying the foods they love. "At family gatherings, we might split a dish, but we taste everything — even dessert. We never leave feeling like we didn't get to eat." — Teresa M.
Join WW by Oct. 31 for as low as $12.72 per month on select plans — that's 25% off the retail price — and get a FREE WW Mystery Box with your membership. Visit WW.com/HealthyCounty to sign up. Then, get your WW Mystery Box at WW.com/mysterybox.
You can sign up for WW at ww.com/us/HealthyCounty. Employees on the county health plan will select MEMBER to enter your BCBSTX ID number to receive the $12.72/month discounted rate. All spouses, dependents and employees not on the county health plan will choose EMPLOYEE to receive the $16.96/month enhanced rate.