News Article | January 26, 2022
New Year, New Goals. Join WW by Feb. 28 for FREE Start Strong Kit
Coordinators | Health & Benefits News
Health & Employee Benefits | Health & Wellness Support
Did you know? Weight loss is 20% activity, 80% what you eat. With WW's NEW PersonalPoints™ Program, you'll get a personalized food plan designed just for you.
Customization like never before. After you join WW, we'll ask you a series of questions, then our nutrition and behavior-change scientists design your unique PersonalPoints Budget and ZeroPoint™ food list.
Zero deprivation. Cook your favorite meals. Go to brunch, happy hour and parties. With our program, nothing is off limits — just total livability.
Science, simplified. Based on groundbreaking nutritional and behavior-change research, the new WW program rewards you for healthy habits so you stick with them! For the first time ever, you'll add Points® for doing healthy things — such as eating veggies, drinking water and moving more.
Join a program that helps you lose weight — and keep it off!
Also, check out several flavor-packed winter soup and stew recipes provided by WW!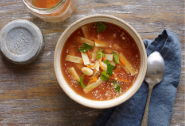 The Texas Association of Counties has partnered with WW to bring you access to the WW digital program at less than $13 per month! To learn more, visit WW.com/us/HealthyCounty. Join by Feb. 28 to get a FREE Start Strong Kit with your membership purchase.
You can sign up for WW at ww.com/us/HealthyCounty. Employees on the county health plan will select MEMBER to enter your BCBSTX ID number to receive the $12.72/month discounted rate. All spouses, dependents, and employees not on the county health plan will choose EMPLOYEE to receive the $16.96/month enhanced rate.