News Article | July 28, 2022
Tips for Sticking to Your Goals While on Vacation
Coordinators | Health & Benefits News
Health & Wellness Support | Health & Employee Benefits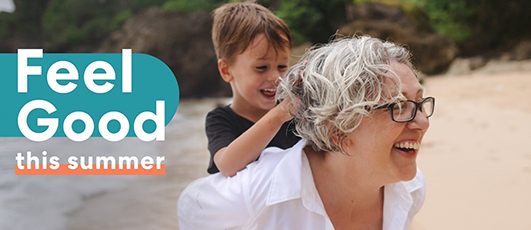 Summer vacations don't mean throwing your health goals out the window. Omada can help you find the healthy balance that works for your life and helps you feel your best.
Here are three tips for healthy summer travel:
Plan snacks.
Pack healthy snacks to avoid impulse eating.

Move daily.
Find creative ways to move, such as exploring the neighborhood on foot.

Get support.
Your Omada health coach or physical therapist can help you make choices that improve your health and fit your lifestyle.
Meet your health goals this summer.
Your Omada health benefit includes smart devices and a dedicated health coach or physical therapist to help you stay on track this summer.
"Omada is the first program that has worked for me. It's been very easy, supportive, and successful for me. Because it's not a food-restrictive program, I'm finally winning. I feel so proud of myself."
- Omada member
Take a one-minute risk screener to see whether you're eligible: omadahealth.com/healthycounty.
The Omada program is available to all fully pooled groups and participating ASO groups. Participating ASO groups include Brazos and Comal counties.