News Article | November 17, 2022
2023 Healthy County Boot Camp to Focus on Collaboration - Register Now!
Coordinators | Health & Benefits News
Health & Employee Benefits | Health & Wellness Support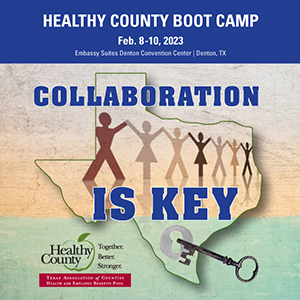 Save your spot today for Healthy County Boot Camp, Feb. 8-10, 2023, at the Embassy Suites by Hilton Denton Convention Center in Denton. The theme will be "Collaboration Is Key" and will focus on how programs and resources can work together to improve and support a healthy workplace culture. You won't want to miss it!
All participants (online and in person) must register by Jan. 10 to receive conference giveaways, and virtual attendees who join at least 80% of the sessions will receive a Boot Camp jacket that will be mailed after the conference.
Host Hotel
The conference will be held at the Embassy Suites by Hilton Denton Convention Center in Denton. Our group rate of $149 is available for single or double occupancy until Jan. 19, 2023. Call the hotel at (940) 243-3799 or book online here to reserve your room today. Rooms book quickly.
Reimbursement Information
Members of the TAC Health and Employee Benefits Pool can be reimbursed for most travel expenses incurred for this conference. Expenses for a maximum of two people per county are eligible for reimbursement. For more information, please visit the conference website.
Please note: Only members of the TAC HEBP are eligible for reimbursement.
Check the conference website for more details as they become available. If you have any questions or need assistance, please contact your Wellness Consultant, Rachel Kucera, or Megan West in the TAC Education Department at (800) 456-5974.