News Article | February 28, 2023
EAP Webinar Recording Now Available: Managing Up
Coordinators | Health & Benefits News
Health & Wellness Support | Health & Employee Benefits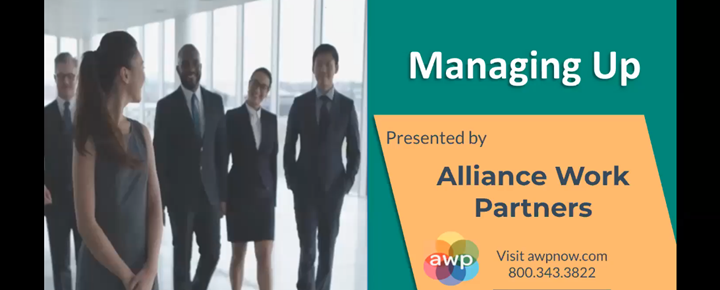 Knowing and adapting to your boss's style of communication and decision-making will help you build a mutually beneficial relationship. When you create opportunities for two-way conversation, expectations can be managed, and your influence can grow. This course presents ideas and strategies you can use to earn the trust and support that advances your work, projects, and ultimately your career.
View the Managing Up webinar recording through April 10.
Topics include:
Anticipating your manager's expectations
Making yourself indispensable
Getting your ideas heard
As a reminder, the Employee Assistance Program (EAP) powered by Alliance Work Partners is available to all fully pooled TAC Health and Employee Benefits Pool members and participating ASO members. The EAP is available to assist employees and members of their households who may be experiencing personal life problems, such as marital problems, legal or financial issues, stress, emotional problems, family problems and substance abuse struggles.
All services provided by the EAP are free of charge and confidential.
A toll-free call to (800) 343‑3822 starts the process. The EAP's call center is staffed 24 hours a day, seven days a week by professional counselors. Face-to-face counselors also are widely accessible.
Go to www.awpnow.com to create a customized account. Select "Access Your Benefits."
Use registration code: AWP-TACHEBP-4661.
Healthy County Employee Assistance Program powered by Alliance Work Partners
Access all benefits by calling (800) 343‑3822.
To reach TDD, call (800) 448‑1823.
To reach the EAP teen line, call (800) 334‑TEEN (8336).