News Article | January 26, 2023
Heart to Heart Healthy County Contest Started Jan. 9!
Coordinators | Health & Benefits News
Health & Employee Benefits | Health & Wellness Support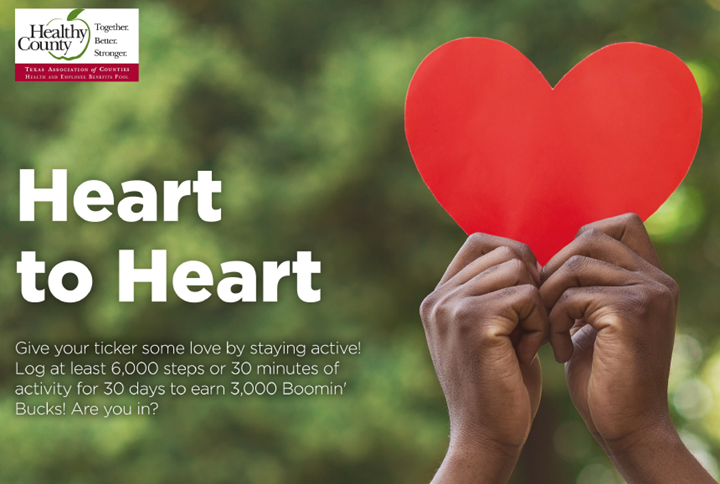 The first contest of 2023, Heart to Heart, started Jan. 9 and runs through Feb. 19. Participants can earn $15 in Boomin' Bucks by logging 30 days of 6,000 steps or 30 minutes of activity.
Click here to see all the 2023 Healthy County contests.
New to Sonic Boom?
Check out our How-To Guide to activate your Sonic Boom account, purchase an activity tracker with your device subsidy and sync your activity tracker to your Sonic Boom portal.
If you have any questions about the Sonic Boom program, about navigating your personal Sonic Boom site or about anything else, please don't hesitate to contact the Sonic Boom Mission Control Support team by email, support@sbwell.com, or by phone toll-free at (877) 766-4208.
*Retirees are not eligible for the Sonic Boom program. All fully pooled TAC HEBP groups and participating ASO groups are eligible for the Boomin' Bucks incentive. Participating ASO groups are Brazos, Comal and Guadalupe counties, and the Harris County Appraisal District.