News Article | April 28, 2022
Latest TAC Salary Survey Almost Complete
County News | Legislative News
Legislative Services
The 2022 TAC Salary Survey is almost ready to share with county officials. We have collected data from 223 counties as of April 20 and just need data from a few more before we can publish the results. On April 19, we emailed the remaining 31 counties one final time to see if they would like to get their data into the report. Since then, one county has responded with their data. The accompanying map shows the remaining 30 counties that have not responded as of April 26.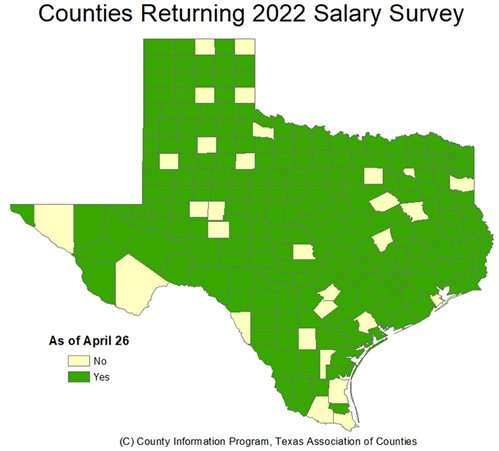 In the email, we attached a copy of the 2022 survey form, which can be returned to TAC by email. Once we receive additional responses, we'll put the data into a report and publish it as an online PDF.
We will also publish a Microsoft Excel spreadsheet on the same webpage that contains the base salary data for the offices in each of the responding counties. In addition, the spreadsheet will include budget and population data for each of those counties. Consequently, the interested parties will be able to sort and group the counties in the spreadsheet to better understand how salaries compare across the state.
Meanwhile, the reports from the 2020 TAC Salary Survey are currently available online along with the companion spreadsheet. The webpage includes a list of edits that we incorporated into the PDF and spreadsheet. However, we included these edits after the hard copies were printed and mailed to the responding offices — they are listed here so the information is available to everyone.
Please address questions about the survey to Tim Brown in the TAC offices at (800) 456-5974 or by email.