News Article | September 16, 2022
County Officials Prepare for 2023 Session
County News | Legislative News
Legislative Services
More than 700 county officials and staff from across Texas attended TAC's Legislative Conference in August to explore issues important to local government.
About 500 county officials and staff from across Texas gathered in Austin in late August for TAC's 2022 Legislative Conference. More than 200 others participated online as attendees prepared for legislative action to come by exploring issues that counties can expect to face when the Legislature reconvenes in January.
The busy and informative three days began with Texas Comptroller Glenn Hegar discussing the state's economy during the conference's opening general session on Aug. 24. In July, Hegar estimated the state would have about $27 billion available to carry over from the current biennium to the next – a nearly $14 billion increase from his previous estimate in November 2021.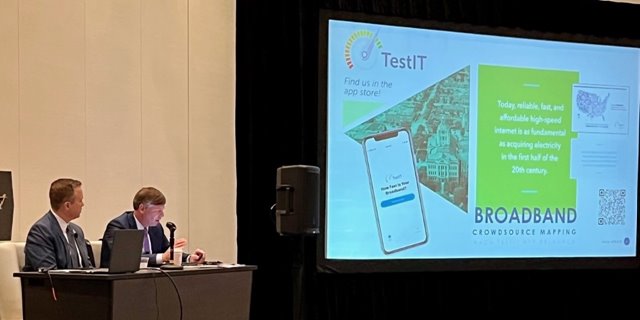 "The foundation of the state, the economy, has been absolutely phenomenal," Hegar said.
Hegar also talked about the state's efforts to expand high-speed internet access – the Texas Broadband Development Office is under the comptroller's umbrella. Broadband came up repeatedly throughout the conference and was the topic of its closing panel discussion on Aug. 26.
Between the opening and closing general sessions, TAC's Legislative team members moderated informative panel discussions with county officials, state lawmakers, staff members of the National Association of Counties and subject-area experts on bail bond reform, mental and behavioral health issues, federal and state funding available for counties, property taxes, elections, emergency management, the American Rescue Plan Act and the Infrastructure Investment and Jobs Act.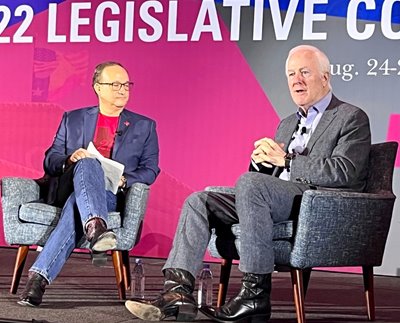 Attendees also had the opportunity to visit with vendors in the conference's exhibit hall and attend a meeting of their individual county affiliate organization. An ice cream social and a legislative reception capped the conference's longest and busiest day on Aug. 25.
The final morning of the conference began with remarks by U.S. Sen. John Cornyn; afterward, the senator sat down with TAC Legislative Director Noe Barrios for a Q&A. Through each crisis of the past few years – Hurricane Harvey, COVID-19, 2021's deadly winter storm, this year's tragic school shooting in Uvalde – Texans have looked to counties for leadership and support, Cornyn said.
"People know you, they trust you," he said.
The conference wrapped with a sense of accomplishment and a clear glimpse of the work ahead.
"The counties are going to have a heavy lift during the legislative session," TAC Executive Director Susan M. Redford said. "There's a lot on the table to be discussed."
"It will be a fascinating year," she said.
TAC's 2023 Legislative Conference is scheduled for Aug.30-Sept. 1 in Austin. Stay tuned for more information.
For additional reporting, interviews and excerpts from this year's Legislative Conference, listen to TAC's podcast, Texas County Voice.