News Article | July 28, 2022
County, District Clerks Attend Annual Conference
Legislative News | County News
Legislative Services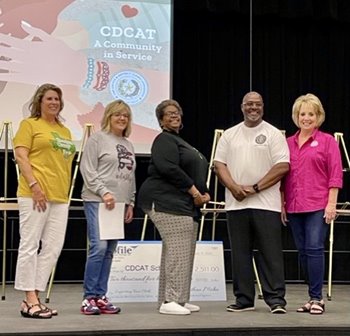 The County and District Clerks' Association of Texas met July 10-14 in Waco for its annual conference. More than 320 registrants attended the conference, which offered continuing education classes for county and district clerks.
Chambers County District Clerk Patti Henry was sworn in as the association's new president. Other new officers are Potter County Clerk Julie Smith, vice president; Dallas County Clerk John Warren, secretary; Travis County District Clerk Velva Price, treasurer; and Collin County Clerk Stacey Kemp, immediate past president; Archer County Clerk Karren Winter, parliamentarian.
Polk County Clerk Schelana Hock and Ector County District Clerk Clarissa Webster were named Clerks of the Year for 2021-2022.
TAC congratulates the association's new officers and looks forward to providing continued support to the organization and its members.
For more information about this article, please contact Nanette Forbes or Megan Molleur.