News Article | June 23, 2022
Are You Disaster Ready?
County News | Legislative News
Legislative Services
June 1 marked the beginning of the 2022 hurricane season. Forecasters at the National Oceanic and Atmospheric Administration (NOAA) have predicted above average hurricane activity for 2022, forecasting 14 to 21 named storms, six to 10 of which could become hurricanes. All types of disasters happen at any moment, so preparation is critical.
Last month, county officials, first responders, school districts, state agencies and emergency management coordinators gathered in Anahuac for the 13th Annual Hurricane Conference. Chambers County Judge Jimmy Sylvia welcomed 150 plus attendees who learned about preparedness, research and tools to prepare data for grants and recovery and mitigation.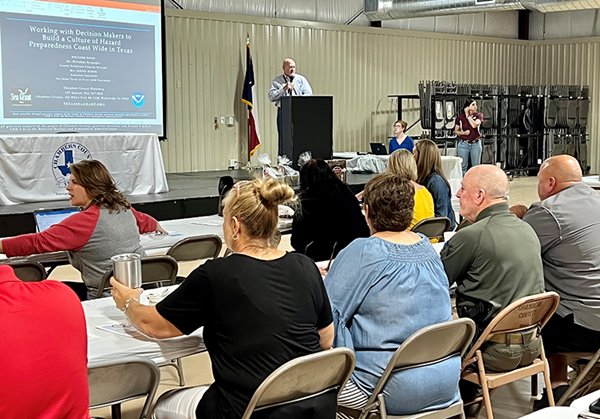 The Texas Division of Emergency Management (TDEM) updated attendees on deadlines for Federal Emergency Management Agency (FEMA) COVID-19 grants administered by TDEM, county liaison officers who will increase TDEM's presence across the state, and the upcoming first class of Emergency Management cadets, convening this fall in San Antonio. The increased fire weather conditions present in many parts of the state are expected to persist. Panelists emphasized the need for preparedness, which should include updated evacuation plans, on-hand emergency kits and compliance with guidance from local officials. The reporting of fire damage through TDEM's Individual State of Texas Assessment Tool (iSTAT) is highly encouraged, since FEMA uses this tool to validate damages.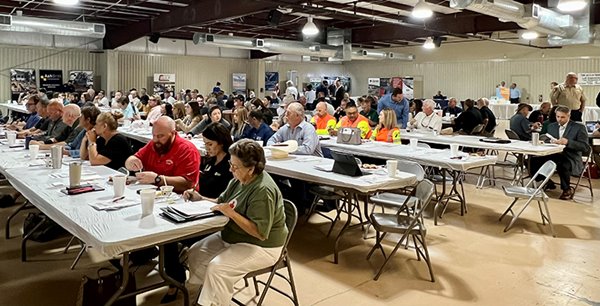 The following week, more than 3,000 attendees gathered in San Antonio for the Texas Emergency Management Conference. Emergency managers, local officials and first responders networked and took part in educational workshops. The conference's exhibit hall was filled with the latest technology and research developments in emergency management. Workshop topics included fire mitigation, risk management, locating funding sources, disaster damage assessment in rural counties and rural emergency management.
Many resources, programs and preparedness checklists are available to counties through the TAC website. For more information on emergency management, please contact Aurora Flores.