News Article | June 23, 2022
Tax Assessor-Collectors Hold Annual Conference
County News | Legislative News
Legislative Services
The Tax Assessor-Collectors Association of Texas (TACA) met in Amarillo June 11-16 for its 88th annual conference. During the conference's legislative update session, Rep. Terry Canales (D-Edinburg), chair of the House Committee on Transportation, provided a prerecorded video highlighting some of the items he believes will be a legislative priority of the 88th Legislature. Of note, Canales said improving infrastructure will be a priority in order to keep attracting businesses into Texas and address many of the supply chain issues occurring nationwide.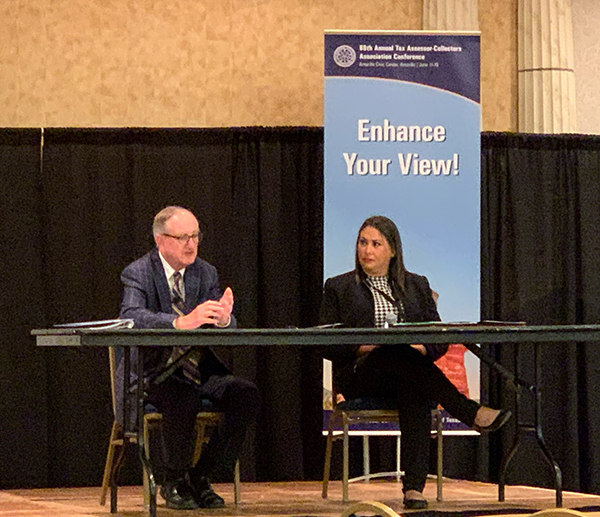 Rep. John Smithee (R-Amarillo) participated in person, providing information on the successes and challenges of last session, what he anticipates will be priorities in the next session, and how to increase tax assessor-collector participation in the legislative process. During a Q&A with Randall County Tax Assessor-Collector Christina McMurray, Smithee discussed passing legislation many years ago regarding vehicle titling and registration to ensure the county of residence got the sales tax commission and associated county fees for vehicle sales. With the passage of Senate Bill 876, tax assessor-collectors worked diligently to keep funds flowing to the appropriate county.
TACA swore in its new Board of Directors during the conference:
President — Bruce Stidham, Grayson County.
President-Elect — Kevin Kieschnick, Nueces County.
Vice-President — Donna Willis, Lynn County.
Treasurer — Larry Gaddes, Williamson County.
Secretary — Allison Nathan Getz, Jefferson County.
Immediate Past President — Randy Riggs, McLennan County.
Director — Shay Luedeke, Bell County.
Director — Christina McMurray, Randall County.
Director — Dawn Vieth, Archer County.
Director — Ruben Gonzalez, El Paso County.
More than 300 people attended the conference. The next event for TACA will be the 40th Annual V.G. Young Institute School for County Tax Assessor-Collectors in Galveston, Nov. 29-Dec.1.
For more information about this article, please contact Katy Estrada.