News Article | June 23, 2022
Wise County Hosts TAC Legislative Exchange
County News | Legislative News
Legislative Services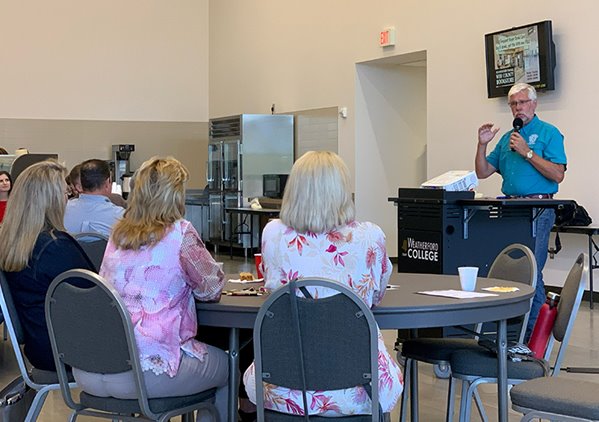 Locally elected officials and staff from Wise County and surrounding counties met June 21 at the Weatherford College Wise County Campus for TAC's first in-person legislative exchange since 2019.
Attendees enjoyed a robust discussion on a range of issues the area is facing, including jail inmates with mental illness, growth and infrastructure needs, vehicle and titling issues with the existing Texas Department of Motor Vehicle computer system and staffing shortages. Participants also discussed Wise County's plans for broadband expansion using American Rescue Plan funds and how the county is communicating to the public its efforts to ensure election integrity, which includes using a system not connected to the internet.
State Rep. Lynn Stucky (R-Denton) attended the event. He shared his excitement to be newly representing Wise County, a redistricting addition to House District 64, which also includes portions of Denton County. In his remarks to the audience, Stucky echoed attendees' focus on the challenges presented by job market conditions and the importance of state appropriations to address the increasing mental health care obligations facing county jails, referring to a recent House Committee on County Affairs and House Committee on Corrections joint hearing. Stucky serves as chair of the County Affairs Committee.
For more information about this article, please contact Katy Estrada.