News Article | March 24, 2022
TAC Salary Survey Continues
County News | Legislative News
Legislative Services
The Texas Association of Counties is collecting information on county officials' salaries for one of the most requested reports TAC produces. County officials often use this survey during the county budget process.
In January, TAC mailed out the salary survey to all 254 counties and asked for it to be returned no later than March 11. As of 5 p.m. March 23, TAC had collected 204 responses (as shown on the map) but needs more before publication is possible.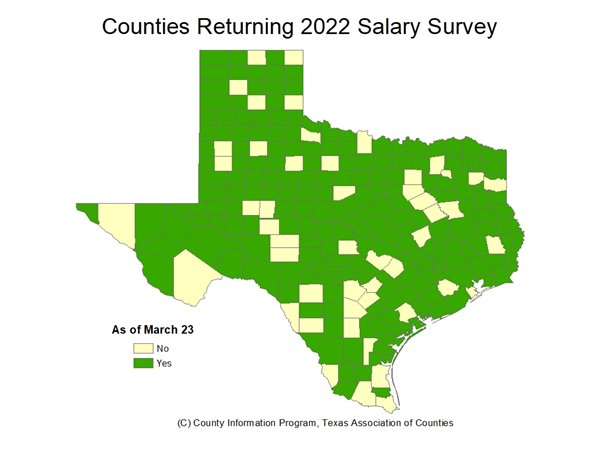 If you prefer, you can download an electronic version of the survey form in MS Excel format and return it to TAC by email.
Once published, TAC will send a courtesy copy of the 2022 TAC Salary Survey to each county judge's office. In addition, a second copy will be sent to the office of the official completing the survey.
Please address questions about the survey to Tim Brown in the TAC office at (800) 456-5974 or by email.