News Article | October 27, 2022
Judges, Commissioners Celebrate Association's 100 Years of Service
County News | Legislative News
Legislative Services
The County Judges and Commissioners Association of Texas (CJCAT) met in Bastrop County in early October for its annual conference. This year's meeting marked a very special milestone – it was the association's 100th gathering. Judges, commissioners and county staff enjoyed educational forums, networking and discussion of policy issues pertinent to the upcoming legislative session.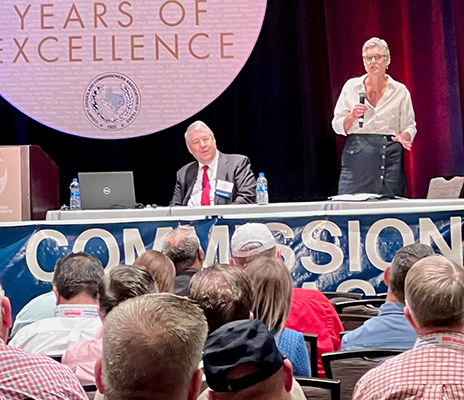 Rep. Todd Hunter (R-Corpus Christi), Rep. Andy Murr (R-Junction) and Sen. Sarah Eckhardt (D-Austin) gave legislative updates from the past session and spoke on the challenges facing the 88th Legislature. Eckhardt stressed the importance of partnership between local and state government. The curriculum also included sessions on the American Rescue Plan Act, the juvenile justice system and a panel on broadband. The 1,270 active members of CJCAT will meet again in 2023 in Abilene.
For more information about this article, please contact Aurora Flores.