News Article | October 27, 2022
Shelby County Hosts Legislative Exchange Meeting
County News | Legislative News
Legislative Services
County officials in Deep East Texas met Tuesday to discuss local government concerns prior to the upcoming 88th legislative session in January. Shelby County Judge Allison Harbison hosted the event and welcomed attendees who represented seven counties and six different elected official offices.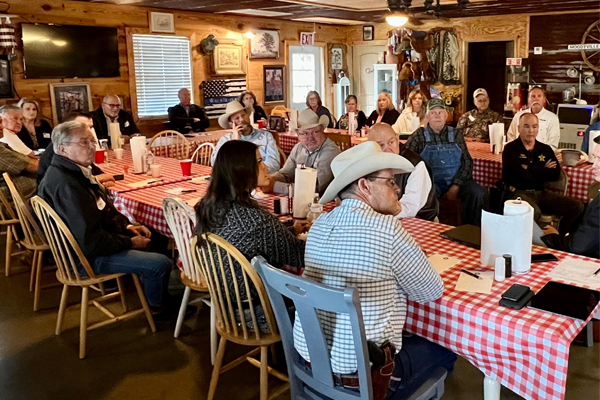 Discussion topics included property and sales taxes, growing costs for mental health, restricted local revenues, unfunded mandates passed down from the state and appraisal inequity issues. Law enforcement concerns covered the increasing backlog of Texas Department of Criminal Justice inmates, mental health patients and Texas Juvenile Justice Department felony juveniles who are being held in county facilities at county expense.
Invited speaker, state Rep. Travis Clardy (R-Nacogdoches), gave a preview of the bigger issues and priorities facing the Legislature and noted the estimated state surplus of $27 billion available to members. Lawmakers will also have a projected $13 billion from oil and gas production taxes in the economic stabilization or "rainy day" fund. Infrastructure and local mental health authorities were two more topics discussed during the working lunch.
The successful Shelby County meeting was the last regional legislative exchange for this year. When not in session, TAC's Legislative team schedules these exchanges around the state for purposes of networking and productive conversations.
For more information on this article, please contact Aurora Flores.