News Article | April 14, 2023
Week in Review: A Digest of What Happened This Week at the Capitol
County News | Legislative News
Legislative Services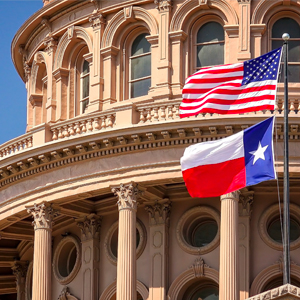 House and Senate Far Apart on Shared Priority to Deliver Property Tax Relief
The Governor, Lieutenant Governor and Speaker all agree: Texas should use a significant portion of the state's record $33 billion surplus to deliver property tax relief. So done deal, right? Not so fast!

Gov. Greg Abbott called for $15 billion to continue 2019's school finance reform package that had the state pick up an increased share of public education costs, relieving the burden on property owners. Lt. Gov. Dan Patrick would bump that amount by 10% to deliver $16.5 billion in property tax relief. Like Abbott, Patrick would have the state fund an increased share of public education costs, but by a lesser amount, with the remainder of the savings delivered through increased homestead and business personal property tax exemptions. Speaker Dade Phelan upped the ante an additional half-billion, pledging $17 billion in property tax relief by lowering the appraisal cap from 10% to 5%.

Announced weeks ago, these differing plans had not yet led to public clashes. Background tension pierced the veil this week when key House and Senate lieutenants, Rep. Dustin Burrows (R-Lubbock) and Sen. Paul Bettencourt (R-Houston), traded barbs. "Everybody needs to get a life and realize what the public already likes," Bettencourt said in reference to the Senate's plan, to which Burrows replied on Twitter, "Their hypocrisy knows no bounds!!"

Set this against the background of Patrick's statement two weeks ago that he will not compromise, upon which he doubled down Wednesday, stating, "The math does not work with appraisal caps. We will not pass it," and we have the first glimpse of the biennial game of chicken between the two chambers. The likely result? Overtime. Over the last 20 years, only three of 10 Legislatures have finished their business without the need for a special session.
Border Security Enhancement Proposals Considered
Building on Abbott's Operation Lone Star effort to combat illegal border crossings, both the House and Senate are considering legislation to secure the Southern border. Yesterday, House Bill 20 by Rep. Matt Schaefer (R-Tyler) was heard by the House Committee on State Affairs. The bill would create a border protection unit under the Department of Public Safety and create a third-degree felony for trespassing from a jurisdiction neighboring Texas. Committee action is pending.
As with property tax relief, the Senate has a different vision for bolstering border security. Senate Bill 2424 by Sen. Brian Birdwell (R-Granbury) would create a new offense, improper entry from foreign nation, punishable by a state jail felony. The bill was approved by the Senate and now moves to the House for consideration.
Senate Finance Committee Substitute for HB 1 on Its Way to the Senate Floor
On Wednesday, April 12, the Senate Finance Committee substituted the House engrossed version of House Bill 1 with the budget recommendations the committee adopted a few weeks ago. The full Senate is expected to take up Senate CSHB 1 on Monday, with House and Senate conferee appointments to follow. If the Senate proceeds as it has in prior legislative sessions, CSHB 1 will be enacted with few, if any, changes and no floor amendments.
Please see our state budget worksheet to see a comparison in funding for counties between the House and Senate's versions. Additional information is available in this summary of the bill prepared by the Legislative Budget Board.
County Officials Testify on Criminal Justice Matters
Chambers County District Attorney Cheryl Lieck testified in favor of HB 1163, which creates the offense of boating while intoxicated with a child passenger. The bill would align the penalty for boating while intoxicated with a child passenger with the penalty for driving while intoxicated with a child passenger, extending the protections for children that we already have on roadways to waterways. Lieck also testified against HB 3247, which would create a second-degree felony offense for prosecutorial misconduct, saying sections of the bill are vague and unenforceable and could punish prosecutors for failing to turn over evidence they didn't even know existed. She concluded by referencing existing law's official oppression statute, which addresses prosecutorial misconduct.

Waller County Justice of the Peace J.R. Woolley, the Justice of the Peace legislative chair for the Justices of the Peace and Constables Association (JPCA), testified as a resource witness on HB 2725 by Rep. Gary VanDeaver (R-New Boston) and HB 3931 by Rep. Harold Dutton (D- Houston). Both bills deal with truancy and were heard by the House Committee on Youth, Health and Safety. Woolley also testified in support of HB 3186 by Rep. Jeff Leach (R-Plano), relating to youth diversion strategies and procedures for children involved in criminal justice matters.

Travis County Justice of the Peace Nicholas Chu, the Justice of the Peace legislative vice chair for JPCA, testified before the House Committee on Criminal Jurisprudence in support of HB 4593 by Rep. Cody Vasut (R-Angleton). HB 4593 would allow justices of the peace to conduct death inquests by videoconference in certain circumstances.
Representative Under Scrutiny for Alleged Inappropriate Relationship With Intern
Following speculation amid his absence from critical budget deliberations last week, it is now reported that the House Committee on General Investigating received a complaint that Rep. Bryan Slaton (R-Royse City) invited an intern younger than 21 years of age to his apartment and consumed alcohol with her. Slaton has retained counsel, who issued a statement denying the allegations.
Legislative Directories Available for Order
Don't forget to order your copy or copies of the Texas Association of Counties' Legislative Directory for the 88th Legislature. The directory includes contact information for TAC's Legislative Services team, leaders and legislative chairs of the county affiliate organizations, members and committees of the Texas House and Senate, and more. Order here.
Week in Review is a collaborative article. For more information, please contact TAC Legislative Services.