News Article | April 21, 2023
Week in Review: A Digest of What Happened This Week at the Capitol
County News | Legislative News
Legislative Services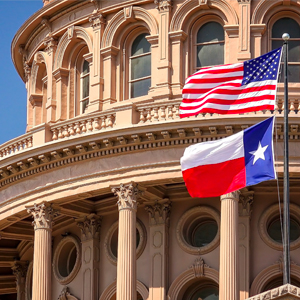 Correction: An earlier version of Week in Review incorrectly reported that Senate Bill 30, the supplemental appropriations bill, was headed to the Governor's desk for his signature. The bill is headed to conference committee.
House Approves Sweeping Measure Pre-empting Local Authority
The House passed House Bill 2127 by Rep. Dustin Burrows (R-Lubbock) on Tuesday after several hours of debate. The bill would severely constrain local authority by prohibiting a city or county from enacting an ordinance within specified areas of state law. Broad in scope, the measure would curtail local decisions affecting agriculture, natural resources, finance or occupations, among others. Further, it would overturn existing ordinances within the stipulated areas of law. The full reach of the proposal is unknown and likely to be litigated should the bill become law. HB 2127 has been received by the Senate for further consideration.
County Treasurers Speak Against Abolishment Proposals
Members of the County Treasurers' Association of Texas (CTAT) turned out en masse on Wednesday to testify and register their opposition to HJR 134 by Rep. Greg Bonnen (R-Friendswood), which proposes a statewide constitutional amendment to abolish the office of Galveston County Treasurer, and HJR 109 by Rep. DeWayne Burns (R-Cleburne), which would abolish the office of Somervell County Treasurer. At least nine county Treasurers were joined by the Justices of the Peace and Constables Association and the District Attorney for the 106th Judicial District to offer oral testimony in the House County Affairs Committee against the joint resolutions.
Members of CTAT asked legislators to preserve all constitutionally created, independently elected county offices. They discussed best practices and the importance of preserving the system of checks and balances between offices with budgetary control and the county's treasury management, similar to the state-level division between the Legislature and the Comptroller of Public Accounts. Members testified that abolishment would not deliver real cost savings to counties because it does not eliminate the need for key Treasurer functions, but would instead erode transparency, accountability and fiduciary responsibility to the taxpayers and voters.
County officials who testified against the bill:
Grayson County Treasurer Gayla Hawkins
Schleicher County Treasurer Jennifer Henderson
Harris County Treasurer Carla Wyatt
Kerr County Treasurer Tracy Soldan
Dallas County Treasurer Pauline Medrano
Tyler County Treasurer Leann Monk
Denton County Treasurer Cindy Yeatts Brown
Hays County Treasurer Daphne Tenorio
McLennan County Treasurer Bill Helton
District Attorney Phillip Mack Furlow, 106th Judicial District
Travis County Constable Carlos Lopez, representing the Justices of the Peace and Constables Association
San Patricio County Auditor David Wendel, president of the Texas Association of County Auditors; Travis County Clerk Velva Price from the County & District Clerks' Association of Texas; and Chambers County Sheriff Brian Hawthorne of the Sheriffs' Association of Texas also registered in opposition to the proposals on behalf of CTAT. Both joint resolutions were left pending.
Financial Support for Rural Sheriffs and Prosecutors Moving
SB 22 by Sen. Drew Springer (R-Muenster), which would create the rural sheriffs and prosecutors salary assistance grant program, was heard in the House Committee on County Affairs on Wednesday. The bill is sponsored by Rep. Ryan Guillen (R-Rio Grande City), the chair of the House Homeland Security and Public Safety Committee, and co-sponsored by House Committee on County Affairs member Rep. Stan Gerdes (R-Smithville). Chambers County Sheriff Brian Hawthorne testified for SB 22 on behalf of the Sheriffs' Association of Texas. He said SB 22 would be a game changer for rural sheriffs, adding that rural counties deserve the same level of law enforcement as urban counties.
While prosecutors and sheriffs both hoped the bill would be passed out of committee Wednesday, it was left pending for consideration of substitute language submitted by a third party. Both sheriffs and prosecutors are closely monitoring the bill's movement and working with the sponsors to help ensure the bill's funding levels for qualified offices are not reduced or otherwise diluted.
Jennifer Tharp, Comal County Criminal District Attorney, also testified in support of SB 22, and spoke to the challenges rural counties face in recruiting and retaining prosecutors, investigators and victim assistance coordinators. Hill County Attorney David Holmes testified in support, saying the bill would significantly help rural prosecutors attract talent. Holmes noted that by increasing sheriff salaries and the ability of sheriffs to hire patrol deputies, SB 22 would increase the number of cases, which would increase the workload of prosecutors.
Callaghan County Attorney Shane Deel also testified in support of SB 22. As county attorney for a small county with a population of 13,000, Deel said he handles every case filed across multiple courts and this bill would allow additional attorney positions to help cover the caseload.
Robert Kepple, executive director of the Texas District and County Attorneys Association, said that 148 felony and 147 misdemeanor prosecutors who would benefit from this bill.
County Officials' Advocacy Efforts Continue
SB 1124 by Sen. Phil King (R-Weatherford), adding new qualifications for sheriff or candidate for sheriff, was passed out of the Senate on Wednesday. The bill was amended on the Senate floor to require a candidate for sheriff to be a licensed peace officer or be eligible to be licensed, and have prior experience as a federal special investigator or be a military veteran.
SB 267 by King, creating law enforcement agency accreditation, was passed out of the Senate on Wednesday. The engrossed version of the bill will require sheriff offices, police departments and school district police departments with 20 or more officers (as well as the Department of Public Safety and Texas Parks and Wildlife Department law enforcement personnel) to achieve and maintain an independent accreditation through a Texas Commission on Law Enforcement (TCOLE) recognized program. The bill provides for a program grant of up to $30,000 per agency of one-time funding to help cover the initial costs associated with accreditation. The costs to maintain accreditation, which must be renewed every two years, are not covered in the bill.
Galveston County Criminal District Attorney Jack Roady testified before the Senate Committee on Criminal Justice in support of SB 435 by Sen. Mayes Middleton (R-Galveston). This bill would permit prosecutors to allow victims' family members to review medical examiner reports and video evidence of crimes. Roady assured the members of the committee the bill, as currently written, would not compromise criminal investigations as it restricts anyone from releasing the information to the public.
Parker County District Attorney Jeff Swain testified before the House Committee on Criminal Jurisprudence's Subcommittee on Criminal Procedure in support of HB 1178 by Rep. Glenn Rogers (R-Graford), permitting non-attorney magistrates to issue warrants for blood draws for suspected intoxication offenses. Non-attorney magistrates include most justices of the peace, non-attorney county judges and mayors. Swain emphasized that in DWI cases, the most important thing heard from jurors is that they would like to see blood alcohol levels included in the evidence.
Swain also testified in support of HB 1940 by Rep. David Cook (R-Mansfield). The bill would allow evidence of the defendant's common predatory behavior toward other victims in the guilt/innocence phase of a trial involving sexual assault of an adult. Swain highlighted the significant impact and collective weight of shared testimony among victims. Comal County Criminal District Attorney Jennifer Tharp also testified in support of the bill, emphasizing that it is often difficult for adult victims of sexual assault to testify, and this bill would help to alleviate their burden.
Chambers County Sheriff Brian Hawthorne testified in support of HB 4037 by Rep. Richard Hayes (R-Denton), requiring a pretrial hearing no later than 30 days after a defendant has been deemed competent to stand trial. Hawthorne explained this was a good bill as currently a cycle can exist where a defendant can remain in jail for days and be released to the state hospital only to be returned back to the jail again.
Williamson County District Clerk Lisa David testified in support of HB 4671 by Hayes, which addresses the summoning of grand jurors. David explained that the bill clarifies certain procedures in the summons process and gives authority to district clerks to mail the summons.
Senate Passes $308 Billion State Budget
On Monday, the Senate passed its version of HB 1, the state budget for the two-year period beginning Sept. 1, 2023, and ending Aug. 31, 2025. The House did not concur with the Senate's changes, which results in a 10-member conference committee tasked with negotiating the final version of the budget. The conferees will consist of five senators and five state representatives, as appointed by Lt. Gov. Dan Patrick and Speaker Dade Phelan. Phelan appointed House Appropriations Chair Greg Bonnen (R-Friendswood), Rep. Mary Gonzalez (D-Clint), Rep. Jacey Jetton (R-Richmond), Rep. Gary VanDeaver (R-New Boston) and Rep. Armando Walle (D-Houston). Patrick appointed Senate Finance Chair Joan Huffman (R-Houston), Sen. Robert Nichols (R-Jacksonville), Sen. Lois Kolkhorst (R-Brenham), Sen. Brandon Creighton (R-Conroe) and Sen. Charles Schwertner (R-Georgetown). For a comparison of funding for counties in the House and Senate versions of the 2024-25 state budget, see this worksheet.
A conference committee also will sort out the House's and Senate's differences on Senate Bill 30 by Sen. Joan Huffman (R-Houston). Earlier this week it appeared that the supplemental appropriations bill funding the remaining obligations in the state's current two-year budget might be the first bill of the session to land on the Governor's desk. But on Thursday, the Texas Senate refused to concur with amendments laid out by the House and requested the appointment of a conference committee.
Legislative Directories Available for Order
Don't forget to order your copy or copies of the Texas Association of Counties' Legislative Directory for the 88th Legislature. The directory includes contact information for TAC's Legislative Services team, leaders and legislative chairs of the county affiliate organizations, members and committees of the Texas House and Senate, and more. Order here.
Week in Review is a collaborative article. For more information, please contact TAC Legislative Services.