News Article | April 28, 2023
Week in Review: A Digest of What Happened This Week at the Capitol
County News | Legislative News
Legislative Services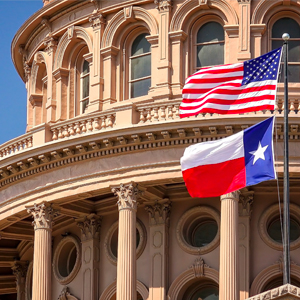 Broadband Legislation Passed by House
On Wednesday, the House passed House Bill 9 and House Joint Resolution 125 by Rep. Trent Ashby (R-Lufkin). Together these measures would transfer $5 billion from the Economic Stabilization Fund – the rainy day fund – to create a broadband infrastructure fund and expand broadband access statewide. The legislation would provide a framework and directives to ready the state for its yet-to-be-determined allotment of federal funds from the Broadband Equity, Access and Development (BEAD) program. Estimates peg Texas' share of BEAD funding at up to $3.6 billion.
Both HB 9 and HJR 125 now move to the Senate for consideration. Should they win approval there, any changes made by the Senate will need to be approved by the House or ironed out by a conference committee. Ultimately, their fate will be decided by the voters. That is because HB 9's enactment is dependent on HJR 125's ballot success. Unlike a House or Senate bill, a joint resolution bypasses the Governor's desk and is instead put directly to the voters in November.
Broadband Input Requested
The Broadband Development Office (BDO) is asking the public for input on internet accessibility, affordability and usage. BDO will use the Digital Opportunity Plan: Public Survey to develop a Texas Digital Opportunity Plan, which is required to draw down federal funding for connecting Texans to reliable, high-speed internet.
The survey will be open for about two months.
County Perspective Shared in Public Hearings
The House Committee on Criminal Jurisprudence considered Senate Bill 1318 and Senate Joint Resolution 44 by Sen. Joan Huffman (R-Houston) on Tuesday. SB 1318 clarifies magistration procedures and is a response to implementation issues from SB 6 passed by the 87th Legislature in 2021. Committee Chair Reggie Smith (R-Sherman) presented a committee substitute. Waller County Justice of the Peace J.R. Woolley, the JP Legislative Chair of the Justices of the Peace and Constables Association of Texas, testified that there is still work to be done.
SJR 44 is a proposed constitutional amendment that would allow a judge or magistrate to deny bail for those accused of first-degree felony sexual offenses, violent offenses or continuous human trafficking if they determine, by clear and convincing evidence after a hearing, that setting bail is insufficient to reasonably ensure the accused's appearance in court or the safety of the public, law enforcement or the victim of the alleged offense. Smith presented a committee substitute that included additional requirements for counties during the magistration process. Woolley said that SJR 44's requirement that a defense attorney be present at magistration would be onerous for counties.
Jim Allison, senior general counsel for the County Judges and Commissioners Association of Texas, thanked Smith and the committee for working with him and other stakeholders. He urged caution regarding certain constitutional enactments, sharing concerns that defendants might be set for hearings without adequate time to prepare.
Both proposals were left pending.
Chambers County District Attorney Cheryl Lieck testified in the Senate Criminal Justice Committee on Tuesday in support of SB 1257 by Sen. Brandon Creighton (R-Conroe), which creates a Class B misdemeanor offense for the unlawful disclosure of autopsy images. The bill was voted out of committee and recommended for the Local and Consent Calendar.
Lieck also testified in the House Homeland & Public Safety Committee in support of two bills authored by Rep. Reggie Smith (R-Sherman): HB 3957 would create a rapid DNA pilot project and HB 3958 would create a grant program for counties to fund DNA collection efforts. Rapid DNA is being developed in cooperation with the FBI to produce DNA test results in a matter of minutes as opposed to days. These bills would expand on DNA collection bills passed during the 2019 session. HB 3817 by Rep. Abel Herrero (D-Robstown) was heard this week by the House Committee on Criminal Jurisprudence. It would allow courts to require a defendant to appear via videoconference when confined in prison. Cherokee County District Attorney Elmer Beckworth testified in support of the bill, saying it would save money, increase public safety and does not violate the Confrontation Clause of the Sixth Amendment right for the accused to confront witnesses against them.
Jack Choate, executive director of the Special Prosecution Unit, said the bill would increase public safety, citing last year's prison bus escape as a reason why it is best to keep Texas Department of Criminal Justice transports off the road.
Several prosecutors voiced concerns about HB 1258 by Rep. Senfronia Thompson (D- Houston), which makes significant changes to the grand jury process. The bill would:
Entitle all witnesses or defendants to a lawyer in the grand jury room.
Entitle defendants to full discovery before appearing before a grand jury.
Require all questions, statements and comments made by prosecutors, grand jurors and witnesses to be recorded (other than juror deliberations).
Require the state to present all exculpatory evidence in its possession to the grand jury.
In addition, if a defendant is no billed, a second grand jury would be prohibited from investigating or indicting a defendant absent new material evidence. And whether a grand jury returns a true bill or no bill, a defendant would be able to sue the prosecutor for attorneys' fees and other expenses if the court find the prosecutor's position was vexatious, frivolous or in bad faith.
Staley Heatly, District Attorney for the 46th Judicial District and co-chair of the TDCAA Legislative Committee, said the bill would slow down an already burdened system, as grand juries have to hear every felony case per the Texas Constitution. He continued that requiring a discovery system would create significant delays in the grand jury process, for both defendants and victims. Heatly said prosecutors play little to no role in the selection of the grand jury and that the bill would require prosecutors to litigate whether a grand jury should have issued an indictment or not.
Will Ramsay, District Attorney for the 8th Judicial District, highlighted the 90-day deadline prosecutors face to get an indictment and that the time constraints and probable litigation the discovery under HB 1258 would bring would be burdensome.
San Jacinto County District Attorney Todd Dillon said the bill would require attorneys for every witness in the grand jury process and would result in significant time delays and high costs for counties.
Kaufman County Criminal District Attorney Erleigh Wiley spoke to the secrecy of the grand jury process and how HB 1258 would have a chilling effect on that secrecy and would not foster efficiency.
Legislative Directories Available for Order
Don't forget to order your copy or copies of the Texas Association of Counties' Legislative Directory for the 88th Legislature. The directory includes contact information for TAC's Legislative Services team, leaders and legislative chairs of the county affiliate organizations, members and committees of the Texas House and Senate, and more. Order here.
Week in Review is a collaborative article. For more information, please contact TAC Legislative Services.