News Article | July 28, 2023
JPCA Sets Attendance Record at Annual Conference
County News | Legislative News
Legislative Services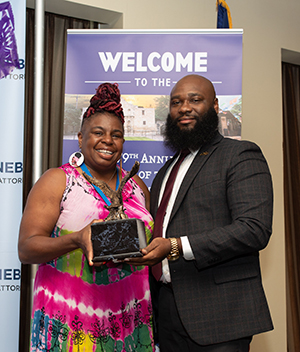 Travis County Constable Tonya Dixon receives the
Justices of the Peace Constables Association's T.A.
Vines Award from Jefferson County Constable
Christopher Bates. (Credit: Kelsey Bernstein)
The Justices of the Peace and Constables Association of Texas (JPCA) held its 79th Annual Conference in San Antonio from June 26 to June 30. A new attendance record was set, with more than 400 participants joining in educational and fun events throughout the week. Reps. Barbara Gervin-Hawkins (D-San Antonio) and John Lujan (R-San Antonio) welcomed the participants during a wonderful reception.
One of the conference highlights was the popular awards banquet, which honors those who have demonstrated exemplary leadership and dedication.
Congratulations to our 2023 JPCA award winners!
T.A. Vines Award: Hon. Tonya Nixon, Travis County Constable
Judge of the Year: Hon. Rachel Garcia, Karnes County Justice of the Peace
Constable of the Year: Hon. Phillip Cash, Montgomery County Constable
Clerk of the Year: Hon. Sandra Diaz, Cameron County Clerk
In addition to the awardees, JPCA honored their Living Legend Award recipient Ron Hickman, who received this distinguished honor on June 15. Further, a new executive board was installed. Jefferson County Constable Christopher Bates takes the helm as President, Harris County Justice of the Peace Holly Williamson is President-Elect, Travis County Constable Carlos Lopez is Second Vice President and Denton County Justice of the Peace James Kerbow is 3rd Vice President.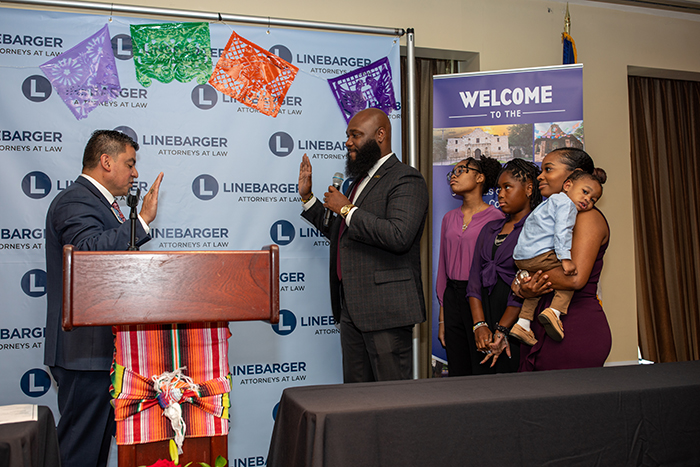 Tarrant County Justice of the Peace Sergio De Leon swears in Jefferson County Constable Christopher Bates as JPCA's new
president while Bates' family watches. (Credit: Kelsey Bernstein)

A full list of the executive board and district directors can be found on the JPCA website. JPCA looks forward to its 80th Annual Conference next year in Fort Worth.



Mario Martinez. Photo used for his obituary.
(Credit: Kelsey Bernstein)
Unfortunately, JPCA experienced the unexpected passing of their long-time legislative consultant, Mario Martinez. Per JPCA's Facebook page, "Mario was more than just our consultant, he was our mentor, friend, and our family. He has been with JPCA for so many years and we are still at a loss. We can't even imagine what his family is going through, and we want them to know our thoughts and prayers are with them during this difficult time."
JPCA is planning an award to be dedicated in Martinez's honor so that his legacy and his work will never be forgotten.
For more information about this article, please contact Kelsey Bernstein.